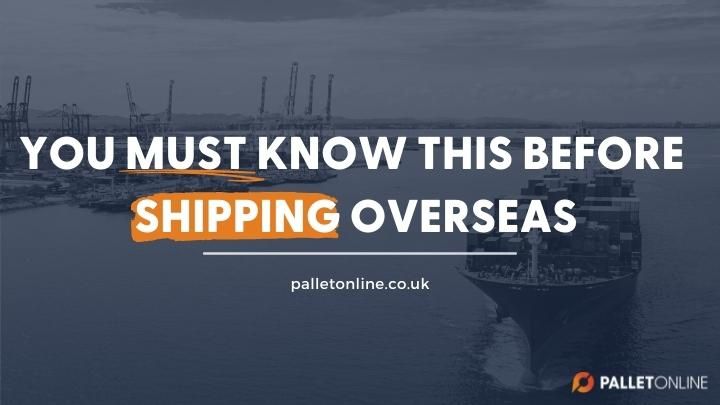 Shipping a pallet overseas may seem like a tedious and daunting process. After all, it is going a long way!
But with the right planning and preparation, it doesn't have to be.
This blog will hopefully give you an insight into international pallet delivery, what to expect, and how to prepare the perfect pallet for your overseas delivery.
Is It Expensive to Ship Overseas?
Shipping internationally is usually always more expensive than shipping domestically, as there's a lot more land (and sea!) to travel. However, it doesn't always have to break the bank.
The total price you're quoted all depends on a few factors, including the total weight of your shipment, the distance between the collection and delivery point and the number of pallet spaces you book.
The goods you're sending also have a bearing on the price. For example, a shipment of an engine taking up one micro pallet space will cost considerably less than if you were to ship a large industrial machine that requires an oversized space.
Pallets are also, naturally, more expensive to ship than their cardboard counterparts, however, pallets offer a higher level of sturdiness that parcels don't. They can also withstand a lot more weight than parcels (up to two tonnes, in fact).
How Long Does It Take to Ship Overseas?
As expected, shipping overseas will take longer than shipping inside the country, due to longer distances and customs clearance.
Customs will likely be responsible for a big chunk of the delivery time.
Now that the UK are no longer a part of the European Union, all goods entering and exiting the EU must go through customs, which may cause delays, especially if your commercial invoice isn't correct.
The method in which you ship your goods also has an effect on the delivery time. There are three main ways in which your pallets will be shipped overseas: air, boat or ferry. We've split boat and ferry up, as they work in different ways.
If you're shipping your goods via boat, they will be placed in shipping containers and loaded onto a cargo ship. This method is common for long-distance shipments, such as shipping across the Atlantic Ocean to America.
Because of the slow speed of cargo ships, this method takes the longest, with shipping times ranging from 20 days to a month.
If you're shipping via ferry, your goods will remain on the trailer while they travel overseas. This is common among shorter journeys, such as crossing the Channel, as it's a lot quicker and cheaper.
If you've got no time to spare, air freight may be a good option for you, as it's by far the fastest. While it's more expensive, you can expect your goods to be delivered in around 2-4 days if shipped by air.
If you use PalletOnline to deliver your goods overseas, we'll ship your pallet via ferry, and our current delivery times are between 2-3 weeks. Not too shabby!
What Documents Do I Need to Ship Overseas?
Now that the UK are no longer part of the EU, a commercial invoice is required to ship through customs.
What is a commercial invoice?
We're glad you asked!
A commercial invoice is an export document that includes various details about your shipment, including what they are, purchase price, weight etc. Here's a full list of what should be included:
Full name, address, and contact info of the seller, consignee, and buyer
EORI number of both the seller and buyer
Commercial Invoice number, date of issue, and a signature
Invoice number, date of issue, and Purchase Order (sales contract)
Price, payment method, currency, and valid discounts or additional charges - freight and insurance should be displayed separately on the invoice if you insure the goods and are paying for the freight.
Number of items or unit count (i.e. Square Metre of Fabric)
Net weight of items
Tariff/HS Codes and a description of the items in English
Statement of origin of the items
Actual value of the goods
As a commercial invoice is a legal document, it's vital that there are no errors or misinformation.
If the thought of creating your commercial invoice sounds a little confusing, don't worry. Here at PalletOnline, our dedicated European Logistics Coordinator, Mavia, is here to answer any queries you might have.
Need an example? Download our mock commercial invoice now.
How Do I Pack My Pallet?
Properly packing your pallet is more important than ever when it comes to shipping internationally.
Due to the longer distances your goods have to travel, they'll likely be handled more than usual, so it's absolutely vital that you properly secure and pack your goods.
Lucky for you, we've got some tips on how to prepare the perfect pallet:
Be liberal with the wrap - using stretch wrap will act as a barrier for your goods, minimising the risk of damage from knocks or bumps.
Use straps if necessary - it's really important not to rely on the weight of your goods to keep them on your pallet. We often see goods that have slipped off pallets because they weren't secured properly.
Don't forget the labels - labels are an essential part of your shipment, they're used to tell workers where your pallet is destined and to update tracking systems, so we recommend that you put them on all 4 sides of your pallet.
Dodgy pallet? Don't send it - shipping your goods on an unstable pallet is a recipe for disaster. Pallets don't last forever, and the risk of collapse and injury is greatly increased when you send an unsuitable pallet through the network. Stuck with an old pallet? Check out our pallet upcycle projects!
Things to Consider Before Sending a Pallet to Europe
Before you go ahead and book a pallet to Europe, let's go over a few important things to keep in mind. These tips will ensure your shipment goes smoothly and arrives on time.
First and foremost, make sure to double-check that you've chosen the right pallet size. Selecting the correct size is crucial to avoid potential issues or extra charges.
Also, make sure your pallet is properly wrapped and secured before it's collected. Neglecting this step could result in additional charges or, in some cases, your pallet might even be declined.
When arranging for collections and deliveries of your freight, kindly ensure there's a clear, solid, and flat surface for our delivery vehicles to operate on while loading and unloading pallets. Our drivers can only park where it's allowed.
Lastly, if your goods don't fit on a full, half, or quarter pallet, please inform us in advance. You can easily do this by attaching a note to your order before confirming your details. Be sure to clearly state that your goods are on an oversized pallet when placing your order and confirming your booking.
Does PalletOnline Ship Overseas?
Yes! We can ship your pallets to a vast range of European destinations including:
UK
Austria
Belgium
Bosnia
Bulgaria
China
Croatia
Czechia
Denmark
Estonia
Finland
France
Germany
Greece
Hungary
Ireland
Italy
Latvia
Lithuania
Luxembourg
Netherlands
Norway
Poland
Portugal
Romania
Serbia
Slovakia
Spain
Sweden
Switzerland
USA
You can get your instant international pallet delivery quote in seconds.
---
Shipping overseas doesn't seem all that daunting now, does it? All you need is a secure pallet and a reliable pallet delivery service.
Talking about reliable pallet delivery services, PalletOnline are the UK's most reliable pallet courier for deliveries into Europe. Fancy a quote? Get a free and instant price in a matter of seconds.