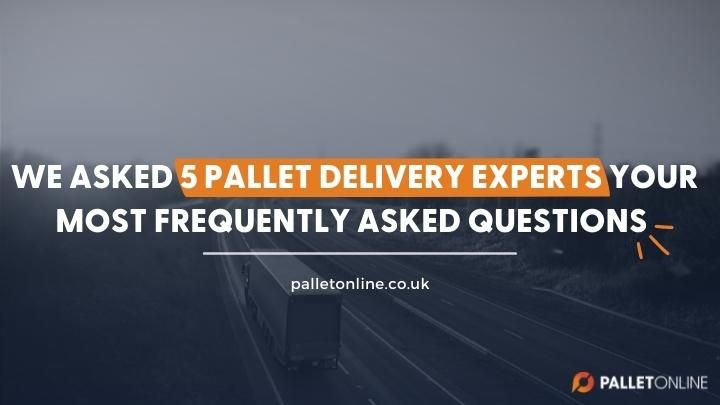 Our customer care team here at PalletOnline firmly believe that no question is a stupid question.
However simple your questions may seem, we're always here to help, which is why we've answered some of your most frequently asked queries.
Can I get a quote?
Answered by Gemma

Of course! You can get a free, no-obligation quote instantly from our website. From there, you're able to amend any collection or delivery dates, select any optional extras such as tail lifts and checkout.
Unfortunately, we're not able to give quotes or take payment over the phone, Live Chat or Email.
Can I have a time for my collection?
Answered by Nicki
Sadly, we can't provide you with an estimated time of arrival for your collection. This is because collections are usually attempted after all deliveries are completed, so they aren't routed and planned until then.
However, you can expect your goods to be collected between 9 am and 5 pm. If we still haven't collected your goods before 4 pm, please don't hesitate to get in touch.
Do you have an ETA for my delivery?
Answered by Gemma
Although we can't provide ETAs for collection, we are able to provide you with one for delivery.
Simply head over to our Live Chat and we'll be more than happy to check with the depot and provide you with an ETA for your pallet delivery if there's one available.
Can I have an Amazon-stamped POD?
Answered by Sue
Yes, you can! Your proof of delivery for your Amazon shipment can be downloaded from our tracking page.
It's worth noting that Amazon do take a little longer to process and upload their proof of delivery documents, so please allow up to 10 working days for your POD to show.
If 10 working days have passed and your POD still hasn't been uploaded, please don't hesitate to contact us via Live Chat and we will be more than happy to speak to Amazon for you.
Do you have the BOL number?
Answered by Nicki
Your BOL number will be printed at the top of your BOL or POD.
An Amazon BOL number is usually 9 numbers, with an apostrophe in front.
If, for any reason, you can't locate your BOL number, feel free to contact us and we'll be happy to have a look into it for you.
Can I track my pallet?
Answered by Fran
Absolutely! PalletOnline are proud to have one of the most advanced tracking systems in the industry.
Simply head over to our tracking page on our website and enter your order ID, from there, you can track your shipment every step of the way.
Your PalletOnline order ID will be a letter followed by 7 numbers. This ID is randomly generated and totally unique to you, ensuring the utmost security when tracking your pallets and getting support.
Will the driver call me when they're on the way?
Answered by Nicki
We request that all drivers give you a call approximately 30 minutes before they arrive, however, this isn't always guaranteed, as some drivers are limited to who they can contact using their cab phones.
What size pallet do I need?
Answered by Sue
We understand that figuring out what pallet size to book may not always be as simple as it seems. That's why we've provided you with a free pallet size guide on our site!
It's really important that you book the correct pallet size to avoid extra fees.
How do I cancel my booking?
Answered by Fran
Need to cancel? Simply contact us on Live Chat or give us a quick ring and we'll make sure to cancel your booking and issue any refunds that are applicable.
Please allow 3-5 working days for your refund to clear.
How do I create a PalletOnline account?
Answered by Gemma
Creating a PalletOnline account is as easy as it gets!
Simply head over to our login page at the top of our website and you'll see an option to create an account. All we need is your address, contact info and some details about yourself.
With a PalletOnline account, you'll have the option to view previous bookings and invoices, as well as the ability to change your account details or even add additional users.
Do you provide business accounts?
Answered by Nicki
Sadly, we're unable to offer business accounts to any of our customers.
However, our team review accounts regularly, and customers who make frequent bookings can be swapped to a premium account where they'll receive a 5% discount on all bookings.
---
That's fifteen of our most frequently asked questions done, dusted and answered. We hope our customer care team have managed to answer your burning question.
If not, please don't hesitate to get in touch with us via our Live Chat!