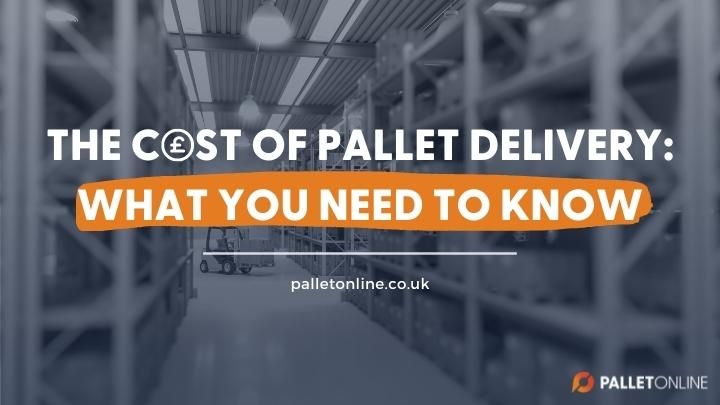 We've discussed the popular pallets vs parcels debate, and discovered the best place to find your pallets, but there's one very important question remaining...
How much does a pallet delivery cost?
Look no further! We've got the answer, and more, in this blog.
How Much Does It Cost To Send a Pallet?
It's difficult to estimate the cost of a pallet delivery service as there are many different factors! The price of pallet delivery could be different depending on pick-up and delivery locations, the number and size of pallets, and if there are any add-ons.
As expected, international deliveries usually cost a little more, due to the long distances and border checks.
If your chosen pallet delivery service offers a full truckload service, the pricing may work a little differently. With full loads, your price is based solely on distance. Pallet spaces are not a factor with full loads as you'll be hiring the entire trailer. This is what makes our full-truckload deliveries a lot more economical!
How Do I Save Money on My Pallet Deliveries?
There are many ways in which you can save a pretty penny on your pallet deliveries, and some are pretty simple!
Here are our top tips for making sure you get a bang for your buck:
Maximise your space - try to pack as much onto the pallet as you can. Of course, don't go overboard on this - you don't, under any circumstances, want to make your shipment dangerous, so make sure to exercise caution
Go for lightweight pallets - the weight of your shipment is a deciding factor in the price you pay. Therefore, the heavier your pallet is, the more expensive your shipment could turn out. An average pallet should weigh around 20kgs, so if yours exceeds that, you may want to think about going for a lighter pallet.
Shop around - it's no secret that each pallet delivery company will have their own prices. It's often advised to not just jump at the cheapest you find, as they may provide poor service. Do your research and look at other customer reviews before committing.
Reuse your packaging - make sure to keep packaging from deliveries (bubble wrap, peanuts, etc.) for free reuse in pallet packing, saving you money on buying these costly materials regularly
Be accurate with weights - guessing the weight of your goods can lead to overcharges and rejections, so be precise when quoting with your delivery company. Honesty and precision will lower shipping rates and expenses, reducing the risk of overcharges.
Buy a label printer - buying a label printer can save on shipping costs and streamline order fulfilment. Clear labels are crucial for couriers and drivers to quickly and accurately process shipments
Package consolidation - package consolidation saves on shipping costs by using fewer, correctly-sized parcels. Maximize items in boxes for safe transit, while avoiding overloading.
After extensive competitor research, we've discovered that PalletOnline offer the cheapest and most reliable service out of our competitors. Why not get your free and instant quote?
Is Pallet Shipping Cheaper Than Parcel Delivery?
Usually, parcel delivery is less expensive as parcels are smaller and don't need specialist equipment to transport them from A to B. Pallets can also travel through a network up to 8 times and, therefore, labour costs, as well as the pallet's weight and size, are taken into account when determining the price.
However, this does not always mean that parcel deliveries are superior. If you're sending a lot of items, pallet delivery services can often be a far more affordable option in the long run.
What Are the Benefits of Sending a Pallet?
Using a pallet carrier to ship your pallets has many advantages!
Because pallets are so sturdy, your items will be kept safe during transportation. Shrink-wrap and other packing materials can also be used to further improve the protection of your goods.
Additionally, it means that items can be stacked without worrying about pallets collapsing.
Like most packages, pallets are also recyclable and, with proper care, can be reused up to nine times. You can also upcycle your pallet if you no longer need it.
If you're a keen DIYer, you'll be pleased to know that pallets can be upcycled into many different things, such as rustic signs, storage units, bed frames and even sofas!
What Are the Different Pallet Sizes?
When booking a pallet delivery, it's crucial that you select the correct pallet size. This will influence how much space your goods will take up inside the trailer. If you choose to book with PalletOnline, you'll have the option to book micro, quarter, half, full or oversized pallets.
These sizes refer to the goods stacked on top of them, and not the actual pallet structure.
The only difference between these sizes are the height and weight limits. The rest remains the same.
Don't worry if this sounds a little confusing! Our handy size guide and pallet calculator are all available to help you on our website.
How Much Is a Euro Pallet Worth in the UK?
If you want to ship your goods on a Euro pallet, you'll need to know how much they cost. Fortunately, normal UK and Euro pallets can be purchased for a cheap price.
Euro pallets typically cost between £4.50 and £10, and a normal UK pallet can be purchased for about the same amount.
Pallets are also available at DIY shops like B&Q and Wickes as they'll often have them lying around in their yards. Who knows? They may even give you a couple for free!
Many pallet carriers also provide a "pallet and wrap" service, in which the collection driver will arrive equipped with both a suitable pallet and some shrinkwrap. The perfect option if you don't have a pallet to hand.
What Add-Ons Can I Add to My Pallet Delivery?
Depending on the type of pallet courier you use, you may also be able to add some extras to your booking. If you book with PalletOnline, we offer many free and paid add-ons!
Once you get your free and instant quote from us, you'll be able to pick from our famous pallet & wrap service, tail lifts for collection and delivery and even timed deliveries and pre-3pm collections.
How Much Does a Heat-Treated Pallet Cost?
A pallet that has undergone heat treatment is known as a "heat treated pallet". This is done to ensure there are no hazardous chemicals or diseases in the wood that could potentially degrade the wood or transfer to other pallets.
Luckily, heat-treated pallets don't cost a whole lot more than regular pallets. You can pick up a heat-treated pallet for around £1-£2 extra - not bad!
How Much Do Plastic Pallets Cost?
Plastic pallets are pretty much exactly that. Polyethylene that is poured into a pallet-shaped mould.
As wood is usually cheaper than plastic, and the market for plastic pallets is niche, they can be more expensive than their wooden counterparts.
If you'd rather utilise plastic pallets instead, expect to pay anywhere between £8 and £40 for a brand-new pallet. Used plastic pallets, however, usually retail for less.
How to Avoid Hidden Costs
Mitigating hidden costs if key if you want to ensure maximum profitability. Here are some of our top tips on how to avoid those pesky charges:
Get everything in writing - this is a crucial step to take that will protect you if you ever got into a dispute with your courier. Always make sure to read and familiarise yourself with their Terms of Service before booking, too
Wrap it up - this is one of the most important aspects of pallet shipping. By protecting your goods with plenty of stretch wrap, you'll minimise the risk of damage tenfold
Save the date - make sure to double-check the collection and delivery times before booking, and pop them in your diary afterwards. Nobody is present at collection or delivery and it's not clear which goods to take, you'll incur a charge.
Weight and dimensions - when booking your pallet delivery, it's always worth making sure the weight and dimensions of your goods are correct. If your haulier discovers that your pallets have been underdeclared, they'll likely ask you to pay an additional fee
Be available - we always recommend having someone present for collection and delivery to advise and help the driver if required, as they'll never assume which goods to take. If this isn't feasible, you may be able to make special arrangements, but these will have to be discussed by your courier
How To Book a Pallet Delivery
So, you've considered the benefits and drawbacks of pallets, found out the weight and dimensions of your items, and are now prepared to book a pallet delivery. What's next?
Well, there are many pallet carriers and delivery services available, and they'll all charge different amounts. Usually, you'll have to enter your collection and destination postcodes first, before choosing the correct pallet space for the size of your goods.
If you choose to book your pallet delivery with us, you'll be presented with our super, easy-to-use quote form where you can get a completely free and instant quote. After that, checkout is a breeze!
Questions & Answers
It can be difficult to know the exact cost, as many factors such as weight, size and distance can influence the price. Different types of services, such as international delivery, can cost more due to the delivery distance and export costs. The best way to get an accurate price is by retrieving a free and bespoke quote.
As parcels are much lighter and smaller than pallets, they tend to be cheaper to transport upfront. Despite this, pallets are still the perfect way to move a lot of goods, and can actually work out cheaper and more efficient in the long run.
There are many reasons why pallets can be superior to parcels. For starters, pallets offer much more protection as they're often shrink-wrapped. Also, pallets can be stacked without the worry of them collapsing, which can't always be said for their cardboard counterparts.
While the physical base of a pallet is often standardised, the amount of space your goods will take up on the trailer will differ. At PalletOnline, we give you the option of seven different pallet sizes: micro, quarter, half, full, quarter oversized, half oversized and full oversized. It's always best to check your couriers size guide before booking.
If you want to ship your goods on Euro pallets, the good news is that they are readily available and cheap. Like standard pallets, Euro pallets typically cost between £4.50 and £10 depending on where you find them.
This depends on the courier. At PalletOnline, we offer many additional services such as tail lifts, pallet & wrap, timed deliveries and pre-3pm collections.
A heat treated pallet is a pallet that has undergone high-temperature treatment to remove toxic chemicals or diseases. Luckily, heat-treated pallets are only around £1-£2 more expensive than standard pallets.
As plastic pallets need to be moulded in a factory, they are typically more expensive than wooden pallets. If you'd rather prioritise durability over affordability, you can pick up a plastic pallet for around £8-£40 depending on the supplier.