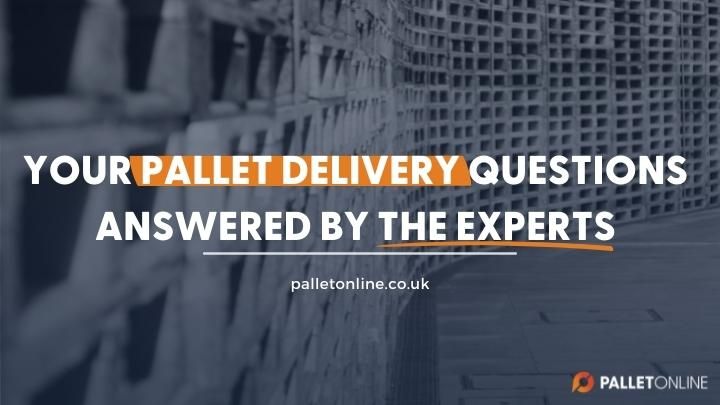 Pallets are wonderful things, and they can make our life a lot easier. But not everyone understands the logistics of pallet delivery.
But you will after reading this blog!
How does pallet delivery work?
The procedure of loading palletised goods onto a trailer for delivery to a given place is known as pallet delivery. A pallet carrier is usually responsible for this.
Regardless of which service you select, the process of delivering a pallet is usually the same.
If you utilise a network to distribute your pallets, your goods will be picked up by the depot closest to your collection point. Your pallet will then make its way through the network until it reaches the delivery depot.
A pallet network is a lot more intricate than a standalone carrier.
If you're shipping through a network, your goods can be moved up to eight times during the handling process, whereas a standalone delivery service likely won't have a massive hub to take your pallets to.
Utilising a hub may be better for the environment in the long run, as goods going to the same destination will be grouped together, rather than one individual depot making multiple journeys.
What is the best way to ship a pallet?
We can't lie, poorly prepared pallets are a nightmare for us!
It's always a breath of fresh air when we see a secure and neatly presented pallet enter into one of our hubs. It makes everyone's life easier, especially Quality Control's!
So, what exactly is the best way to ship a pallet?
As experts in pallet delivery for over 67 years, we've mastered the art of preparing pallets. Here are our top tips:
Get the tape measure out - knowing the dimensions (and weight) of your goods is vital when shipping your pallet. We need to know this to ensure we have enough space on our vehicles and they don't become dangerously overweight.
Wrap it up - there's an old saying in logistics; "you can never have enough shrinkwrap"... okay, we definitely just made that up, but it's true! Shrinkwrap is your best friend when securing your goods to a pallet, so don't skimp on it.
Strap it down - want extra security? Invest in some high-quality ratchet straps to secure your goods. If straps are out of your budget, rope works fine, too.
Know your limits - There's no doubting that pallets can be heavy. Injuries are common when trying to move a heavy pallet without assistance. So, to be on the safe side, why not request a tail lift? PalletOnline offers a free tail lift service at checkout.
Want more tips? Read our Pallet Preparation blog.
What's the best way of stacking a pallet for shipping?
Sending more than one pallet? It's crucial that you know how to stack a pallet safely and appropriately.
More often than not, pallets will be stacked when they're collected to optimise the space available on the trailer.
If your goods aren't loaded appropriately, they could topple in transit, causing not only damage to yours and other goods on the vehicle, but potentially inflicting harm to workers loading and unloading the goods too.
You must also never use damaged pallets. It may seem like a no-brainer but it's easily done. Even a small crack in the wood can cause instability and make the whole stack collapse. So, it's always best to examine your pallets thoroughly before loading to make sure they are in good condition.
If you need to load multiple boxes onto a pallet, it's best practice to use boxes of uniform size as this will make the pallet stronger and more resistant to damage. Stacking in columns is the best, and safest, way to load goods on a pallet.
Our handy infographic goes into more detail about packing pallets.
Do pallet couriers provide the pallet?
This all depends on the pallet courier you use. Generally speaking, they won't provide a pallet free of charge - you'll usually have to pay an add-on fee.
If you're thinking of saving a bit of money by finding your own pallets, that's completely fine. However, there are a few things you should keep in mind. First, you'll need to figure out how to get those pallets back to your home or business – it's not always a walk in the park.
Finding good-quality pallets can also be a bit tricky, especially if you're new to shipping. So, don't just grab the first pallet you come across, because you might end up dealing with some unexpected issues that can cost you more in the long run.
Sometimes, pallets you find could have stray nails, pests, or other things that make them unsuitable for shipping your precious goods.
That's why it might be a good idea to trust a pallet courier to provide you with pallets if you're not feeling 100% confident about finding your own.
Did you know that PalletOnline provide a Pallet & Wrap service for only £25? Simply select the option at checkout and our drivers will palletise and securely wrap your goods for you.
How long do pallet deliveries take?
The time it takes to ship a pallet can be determined by a number of things, including the courier you choose, the number of goods you're sending, and of course, the destination.
If you're sending a pallet within the UK, you could utilise your chosen carrier's economy service. This service usually takes 2-5 working days to transport your pallet from A to B.
A premium or next-day service is usually available for domestic shipments, too. If you upgrade to this service, your pallets will most likely be delivered the following working day, depending on when you placed your order.
International deliveries usually take a bit longer to complete due to the distance and occasional delays through customs, but thankfully, if you choose PalletOnline to send your goods, there will be a friendly customer service team available to keep you updated throughout your pallets' journey.
Are Pallets Regulated?
First and foremost, it's important to be aware that shipping wooden pallets that are infested can lead to significant pest issues worldwide.
When it comes to manufacturing or refurbishing wooden pallets, there are some strict standards in place for wood treatments. These standards are in place to ensure that the pallets are pest-free.
You can easily identify properly treated pallets by looking for a pallet seal, which is typically placed there by a certified inspector. So, when you're buying a pallet on your own, be sure to check for that seal. And if you're planning to treat a pallet yourself, there's plenty of helpful advice available online to guide you through the process safely.
The key takeaway here is that if your pallet doesn't meet the right treatment standards, it might be rejected by the courier or even disposed of.
---
Did you already know the ins and outs of pallet delivery? Or did you learn something new? Either way, we hope you found our blog useful!
PalletOnline are one of the UK's leading pallet couriers. Why not have a look at our other blogs? Or why not get a free and instant quote?