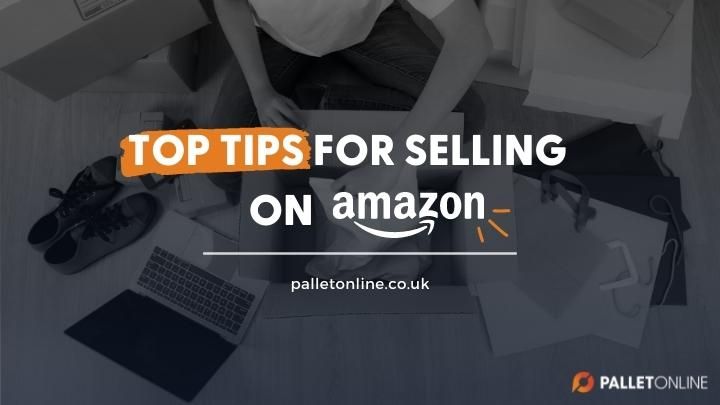 With over 175 fulfilment centres globally and intricate management systems, selling your goods on Amazon sounds daunting, doesn't it? But it's not as complex as you think!
We've come up with a list of top tips for selling on Amazon, so you can make the most out of the world of E-commerce.
Tip 1: Use FBA
FBA (or Fulfilled By Amazon) shipping is the easiest way to get your goods into a fulfilment centre and ready to be sold by Amazon.
Amazon's FBA service offers a truckload of benefits, including:
Access to Prime Shipping
Let's face it, who likes ordering products from Amazon if it doesn't include Prime's next day shipping? I know I don't!
Return Management
Being an independent seller can be great at times. But those pesky returns? Not so great. With FBA, Amazon's fulfilment services handle returns and refunds for you, as they are classed as part of their fulfilment process!
Effortless Logistics
As Amazon is handling the whole shipping process themselves, the need for extensive and frustrating logistical nightmares will be a thing of the past!
Just sit back and relax, while Amazon pick, pack and ship for you!
Customer Service
When using Amazon's FBA service, you'll usually never have to take calls or customer service queries directly from customers as any questions not covered through reviews and FAQ's on your listings page will be handled by Amazon themselves!
It's no secret that Amazon's FBA service is great, however, the one thing you will have to do is keep your inventory topped up.
How do you do this? Well, we're glad you asked!
PalletOnline are the only Amazon approved pallet delivery service in the UK for shipping to Amazon fulfilment centres. Our handy quoting system will give you an instant price, just input the collection address, choose which Amazon fulfilment centre you'd like to deliver to and how many pallets you'd like to ship, our system will return an instant, unique price for your shipment!
Tip 2: Perfect Your Product
While it's all well and good to consider the logistical side of selling on Amazon, it's important to think about the buyers' perspective too.
What do they see when they view your listing? Are the descriptions accurate? Are the images appealing?
A poorly listed product is a recipe for disaster. You'd never book a holiday never knowing where you'd be going and how much it would cost, would you?
Make sure you provide the buyer with up-to-date information and images, accurately relaying the products' benefits while addressing pain points.
To get your listings higher on Google, it's also worth adding in some popular keywords for SEO purposes. We won't get into SEO in this blog, as that's a whole other kettle of fish!
Tip 3: Ask The Experts
It's totally normal to be confused when shipping to Amazon, which is why help from more experienced sellers is priceless!
There are many FBA help groups on social media (we recommend you take a look at Mr FBA UK on Facebook), as well as virtual assistants, and other trusted, reputable professionals who are experienced in the industry.
Tip 4: Have a Flexible Pricing Strategy
For you to be competitive in your market, it's important to change your prices regularly.
If you choose to follow a competitive pricing strategy, you'll need to monitor your competitor's prices closely.
If you only have a small catalogue of items on sale, this is quite an easy and straightforward process. However, if you have many listings of different priced items, it can become repetitive and very labour-intensive.
Fortunately, this is where repricing tools save the day!
Repricing tools are pretty much just that - software that changes the price of your items depending on other factors, such as the price of competitors. There are many repricing tools that you can pick from, and we recommend you take a look at some of the best ones on the market!
Tip 5: Play By The Rules
Did you know that your Amazon Merchant Account can be suspended if you don't follow Amazon's code of conduct? Make sure you don't cut corners with this because, if you do, you'll be at risk of getting penalised and getting your account terminated.
Code of conduct violations can range from account misrepresentation (claiming you're somebody else when you aren't) and inaccurate product information to violating price-fixing laws.
It's always recommended that you view Amazon's full list of shipping rules so you don't risk getting cursed with rejected pallets. Amazon are very picky with how pallets arrive at their fulfilment centres. For example, they do not allow black shrinkwrap or gaylords... so don't get caught out!
Before sending your pallets to Amazon, be sure to have a read of our top 5 packing tips!
---
We understand that selling on Amazon can be both rewarding and tricky. For that reason, we hope our go-to-tips helped you get your Amazon fulfilment journey well underway!
Looking to ship to Amazon fulfilment centres? Well, you're in the right place! PalletOnline are the UK's only Amazon approved pallet courier!