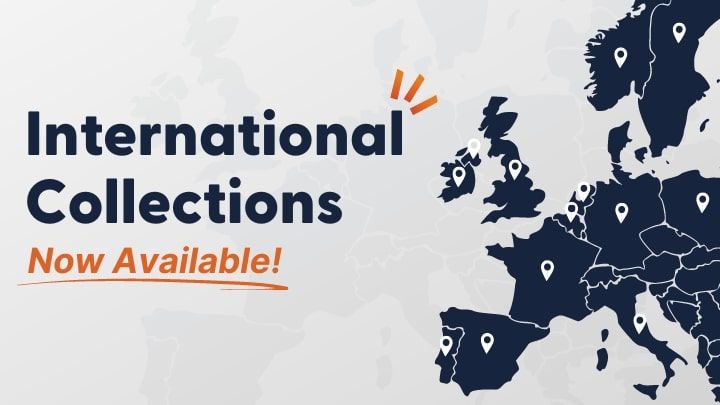 We're announcing a new service that has been in the works for many months, and we're extremely excited to share it with everyone!
Introducing: New International Collections.
That's right! You'll now be able to book a pallet collection from 32 countries in total, with more to be added in the coming months.
We've answered some of your most commonly asked questions below.
What Is Your New International Collection Service?
Prior to introducing our new international collection service, our customers were limited to two collection countries: the United Kingdom and the Republic of Ireland.
Our brand-new service will allow you to ship from an additional 30 countries, with more countries being added to the list over the next few months.
We've been spending some time perfecting our new international collections service for you, to ensure you still have the same hassle-free, smooth booking experience you're used to.
What Countries Can You Now Collect From?
As we've just mentioned, we can now collect from 32 popular global destinations! Is your country listed?
You'll also be able to ship in-between international countries (e.g. from France to Sweden).
When booking an international collection with PalletOnline, you'll still receive your usual benefits!
Instant Tracking
Industry Leading, Friendly Customer Support
Insurance Cover for Up To £5 per KG
What's not to love?
Can I Ship to International Amazon Fulfilment Centres?
Sadly, we are currently unable to ship to European fulfilment centres from the UK, or vice versa.
We can, however, ship to an Amazon fulfilment centre if the collection location is in the same country as the fulfilment centre.
Want to ship to Amazon? What are you waiting for?
Can I Book an International Full Loads Collection?
You sure can!
Our full loads page will take you through the steps to book an international full load collection and delivery.
Just select your collection & delivery locations and enter your postal codes for both countries. Our team will be in touch with a price.
How Do I Book an International Pallet Collection?
Booking an international collection and delivery is as easy as it gets!
Simply head over to our quote page, select from one of our 32 collection and delivery countries and enter the required postal codes, as well as the number of pallet spaces you'll need.
Our highly experienced and friendly customer support team will then contact you with a free, no-obligation quote.