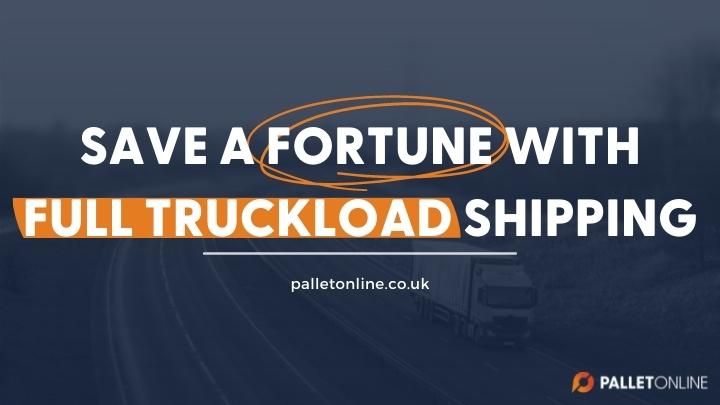 Sending a large number of goods may seem daunting and expensive, but it doesn't have to be.
In this blog, we'll tell you all you need to know about full truckload shipping; what it is and how to utilise it in the most cost-effective way.
What Is Full Truckload Shipping?
Put simply, Full truckload (or FTL) shipping is exactly what it sounds like - a truck full of palletised goods.
Typically, this method of shipping is favoured by businesses and individuals who ship a large number of goods from one place to another within mainland UK.
This is because it's the most cost-effective method of shipping more than 10 full pallets to a single destination.
Plus, FTL is a dedicated, A to B service, meaning that your goods will be delivered the same day they're collected, and there won't be any other goods on the vehicle.
How Should I Book a Truckload Shipment?
Usually, pallet carriers would need to manually quote for a full truckload shipment, which means you'd need to phone a local distributor and ask for a quote from them.
They will ask you for quite a bit of information including your full collection and delivery addresses, quantity, size and weight of your pallets, and what kind of goods you're sending just to get you a price.
But with PalletOnline, you don't need to speak on the phone for what seems like a lifetime! You can get a quote in seconds via our website, and all we need is your collection and delivery postcode!
How Much Does a Full Truckload Delivery Cost?
Full Truckload shipping can be significantly less expensive than sending multiple smaller shipments.
This is because when you get a price for a full truckload, you will be quoted for the rental of the entire trailer, rather than per pallet space on a shared vehicle for smaller quantities.
FTL is typically preferred by companies and individuals with a larger volume of items to ship as everyone saves money this way.
What Is the Difference Between FTL and LTL?
In short, there is a HUGE difference between FTL and LTL.
Less than Truck Load (LTL) shipping is a method of shipping which allows individuals and businesses to ship a smaller number of pallets, typically between 1 and 10 pallets, to a multitude of destinations including countries overseas and Amazon Fulfilment centres.
More often than not, when you book an LTL shipment, your goods will travel through a pallet network to reach their destination, which means it takes a minimum of 1 working day for your goods to be delivered.
This is very different to Truckload shipments which are a direct, A to B service, meaning your goods will stay on the same vehicle until they reach their destination, and are often delivered the same day they are picked up.
LTL shipping is the most cost-effective option for smaller shipments, whereas FTL shipping will help you save a pretty penny if you have a higher quantity of pallets to send.
What Are the Advantages of Truckload Shipping?
We get it. It can be difficult to decide which method of shipping is best for you, especially when there are so many factors to consider such as price, speed, and reliability.
To help you decide, here are just a few benefits of truckload deliveries:
Cost - depending on the number of pallets you're looking to send, you could save hundreds of pounds if you choose to ship a truckload compared to multiple smaller shipments. With FTL, the more you ship, the more you save.
Handling - there are fewer touchpoints along the route for full truckloads, making them even more secure than LTL shipments. Less movement means less risk of damage or loss during transit.

Regardless, if you choose to ship with PalletOnline, insurance is always included for free with every booking for that extra peace of mind.
Speed - full truckload shipping is usually a lot faster than LTL. This is because your goods can be taken directly to their destination immediately after being picked up, rather than being sent through a hub-and-spoke style pallet network.

Plus, FTL shipments don't require additional stops along the way to pick up additional goods or to switch the load to another truck because they are delivered to only one location. Time is saved significantly as a result of this.
Does PalletOnline Provide a Full Load Service?
Absolutely! PalletOnline is proud to provide one of the best full-load services in the country.
With our instant quoting system, you can get a custom, no-obligation price in a matter of seconds.
Not only that, we have a variety of customisation options available, including multiple trailer types and full flexibility for collection and delivery dates.
Why not head over to our full truckloads page and get your free and instant quote?
---
We hope this blog has given you an insight into the wonderful world of full truckload shipping, and how its many benefits can help you get the most out of logistics.