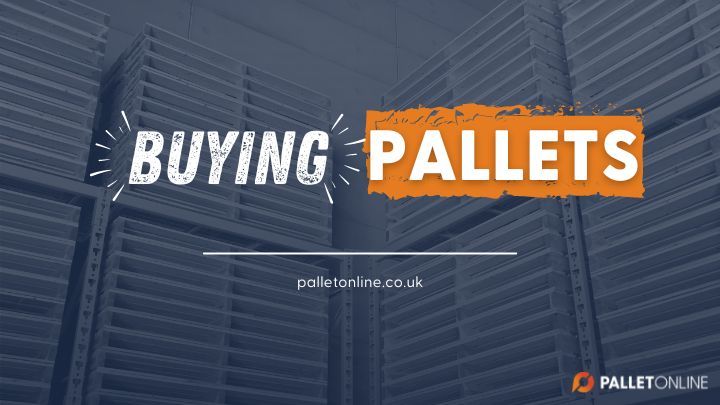 Pallet couriers are by far the most popular means of transporting goods nowadays, but did you know that it's your responsibility to supply the pallet?
That's right! You need sturdy pallets to ship items in bulk or even bulky goods as safely as possible.
Without pallets, it would be extremely difficult to get everything from one place to another minus the casualties.
But if this is your first time sourcing pallets, you might need a gentle nudge in the right direction, right?
Rest assured that we have everything you need to know about sourcing your very own pallets, including where to start and your last resort.
Let's dive right in!
Where to Buy Pallets
Anyone can buy a pallet, literally anyone.
For example, there are companies out there that need pallets to re-stock items, keep pieces of equipment safe or transport goods directly to their customers.
On the contrary, those who don't run a business can just as easily buy and send pallets too!
The quickest way to buy pallets is to either go out and visit a place that sells them, or search online for them instead.
Keep in mind that when searching online for pallets, you need to know the exact purpose of use, i.e. for storage of goods or to transport certain items.
The reason is that if you are only planning to use the pallets for storage purposes, they don't have to be in perfect condition and thus, you may find cheaper options!
But if you prefer newer models, you can buy any type of pallet in bulk from pallet manufacturers across the country.
Buying and reusing pallets can also save time and money when arranging frequent pallet deliveries, making them extremely cost-effective.
If you buy your pallets from online manufacturers, remember that you will have to find a means of getting them to your headquarters. This is normally at your expense.
Such charges would not apply if you were to go with a pallet management company. In which case, the latter would provide you with pallets as and when they are needed.
Where To Buy Pallets Near Me
Running a Google search for 'pallets for sale near me' is a great place to start. The more specific your search, the better the results that will show.
For example, if you search 'wooden pallets for sale near me', more results will show for wooden pallet sales within or near your area.
It's also worth checking out Gumtree listings to buy wooden pallets. Buying second-hand pallets can also help you to save more money in the long term.
New and Used Pallets
When you buy pallets online, you also have to decide whether you need brand-new pallets or if you can settle for used ones instead.
Used pallets will always come at a cheaper price compared to new pallets of a similar design.
Plus, used pallets can be either recycled, repaired, re-manufactured or combo pallets.
Different Types of Pallets
There is a wide range of pallet types, but the two main types of pallets you'll come across are stringer and block pallets. While they serve the same function, the structure is slightly different.
A block pallet is comprised of 9 blocks of wood that form the base (four on each corner, one in the centre and two at either side). Block pallets are often called "4-way" pallets, as you can access the pallet from any side.
Stringer pallets utilise three long, wooden boards, or stringers, that are sandwiched vertically to support the top and bottom layers. Unlike block pallets, stringer pallets can only be accessed from two sides. This type is most common in America, while block pallets are mostly found in Europe.
A more modern approach to transporting your goods is using plastic pallets. These, as the name suggests, are moulded out of plastic and are significantly lighter than traditional pallets.
Plastic pallets are more resilient to pests and diseases which makes them stronger and more robust.
Pallet Size
Sizing is very important when it comes to shipping pallets.
You'll want the items that you ship to fit perfectly on a pallet. The standard sizes of a pallet in the UK are 1.2 metres x 1 metre.
Or, you can order custom pallets. In which case, keep in mind that these can either take a while to build or be quite expensive.
If a pallet is properly sized, it can mitigate product damage, ensure production continuation, and reduce injuries.
Moreover, manufacturers can also use a proper size to reduce the number of truck deliveries, transportation costs, and maximise unit load capacities.
Pallet Accessibility
When it comes to forklift accessibility, 2-way and 4-way pallets are often taken into account.
As their names suggest, the 2-way pallet has forklift openings on only two ends, while the 4-way pallet has openings on all four sides.
Pallet Grades
When you get a pallet, you also need to be aware of its grade – grade A or B, also referred to as #1 and, respectively #2.
Grade A pallets are recycled ones that have been refurbished and brought to near original condition.
Grade B pallets are those that have been used and experienced damage to one of their stringers.
To fix this, an additional runner is placed alongside the broken piece.
Heat Treated Pallets
Heat-treated pallets are pallets that have been heated up to high temperatures to sterilise the wood. This process kills any bacteria or chemicals on the pallet, which will make it safer to use.
Heat-treated pallets can be picked up for only a few pounds more than a normal pallet.
Pallet Materials
Naturally, you'd want to know which pallet material fits your business the best – wood, compressed wood, cardboard, metal or plastic.
While wooden pallets are the most commonly used ones and are believed to be the most reliable, each material comes with its advantages and disadvantages.
Here's The Bottom Line
When you're looking to order pallets online, there are various aspects that you should ideally take into consideration.
These include things like the size, the material, the grade, etc. – all these are extremely important, and they will help you choose the right pallets for your business or project.
Need a delivery service to ship your pallets? We can provide you with a low-cost, reliable service!