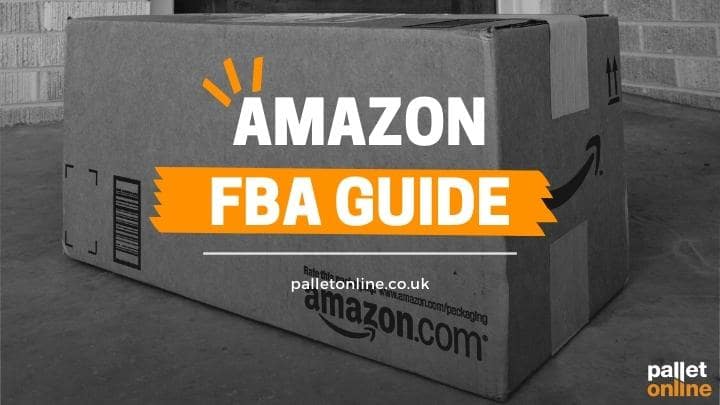 If you own a small business that specialises in selling and delivering goods, then you might have heard of the Amazon FBA delivery service.
However, what you might not know is that PalletOnline can help you with the Fulfilment by Amazon part of your business. Besides the ususal pallet delivery services that all couriers offer, we can also help you set up and deliver your goods to certain Amazon Fulfilment Centres.
Without further ado, let's look further into the details that you need to know.
What Is Fulfilment By Amazon?
'What is Fulfilment by Amazon?', some might question. Just as Amazon itself says, they can ship any goods that you sell through their platform. After all, Amazon does come with the most advanced Fulfilment network in the entire world.
The first thing that you need to do is enrol in the FBA (Fulfilment by Amazon) program. Then, the company will give you the opportunity to store your items in their Fulfilment Centres.
From the Fulfilment Centres, your products will be picked, packed and shipped out to your customers. Fulfilment by Amazon will provide you and your customers with fantastic customer service.
Better yet, you won't need to deal with packing, sending your pallets to delivery centres, or even struggling with their shipping. The only thing that you need to do is send your products to Amazon!
Who Can Send Pallets to Amazon?
If you're an FBA seller and have a Seller Central account, you can send pallets into Amazon, whether it's wholesale merchandise or things you're looking to part with. Yet, becoming a thriving Amazon vendor requires honing your skills.
Fulfilment by Amazon, or FBA for short, allows you to streamline order fulfilment by tapping into cutting-edge shipping and fulfilment solutions. This translates to a potential surge in sales from Amazon's vast customer base and a swift uptick in your profit margins.
It's noteworthy that approximately 48% of all Amazon transactions stem from third-party sellers. Furthermore, among the top 10,000 sellers, over half opt for FBA services facilitated by their local pallet courier.
The Benefits Of Fulfilment By Amazon
Of course, if you choose Fulfilment by Amazon delivery, you will have more than enough benefits that will satisfy both you and your customers. Some of the pros of FBA deliveries are below:
Free Shipping Eligibility - as soon as you list your products for the FBA service, they become eligible for free shipping and Amazon Prime free two-day shipping. The FBA listings that are qualified display the Prime logo so that potential customers know those products are handled and delivered by Amazon.
Trusted Customer Service And Returns - any customer that buys something through FBA will enjoy trusted customer service and returns, provided directly by Amazon.
No Minimum Number Of Items - there is no minimum number of products required for you to enrol in the FBA program. Even if you want to sell only one single item through FBA, Amazon will gladly receive it at one of their Fulfilment Centres.
Cost-Effective - the cost of shipping your items is included in your fees. Also, you will not be charged extra for any orders that are eligible for free or free two-day shipping. You are only charged for regular orders and storage space.
How Can PalletOnline Help You?
We mentioned that PalletOnline is partnered with an Amazon pallet program, meaning that we can help you with Amazon FBA pallets. First, we must tell you that our Palletline network is approved to deliver any of your goods directly to the Amazon Fulfilment Centres.
Amazon also approved our network of drivers for any FBA deliveries.
Since the only thing you have to do after enrolling in the Amazon pallet program is deliver your goods to the Fulfilment Centres, we thought that we should help you with that as well.
Furthermore, if you send a pallet to Amazon (through an Amazon LTL courier or similar) rather than sending your items in parcels, your cost will be brought down. In the end, you'll get a better return on investment if you choose to send your goods on a pallet to the Amazon Fulfilment Centres.
How Can I Book An Amazon FBA Delivery?
Our Amazon pallet ordering program is straightforward and booking an FBA delivery takes just a couple of minutes through our website. Just go to our website and select 'Amazon Fulfilment' at the top of the page; this will take you to the free delivery quote page.
All you have to do from there is select which Fulfilment Centre you want to ship your goods to and your quote will auto-generate based on the weight of your goods and distance.
Essentially, the Amazon pallet ordering program (Amazon FBA) works just the same as any other pallet delivery order. By that, we mean that you can book a delivery to Fulfilment Centres all across the country and get a free quote instantly before agreeing to book your pallet delivery with PalletOnline.
When you are ready to ship your goods to Amazon, head straight to your FBA seller account and select the items you wish to ship to the Fulfilment Centre. Once your booking is confirmed, we will need you to provide us with your FBA reference (ASN number), your Purchase Order number and finally the cartin and unit count.
The Bottom Line
All you have to do to enjoy the Amazon pallet ordering program is to place a collection order for your goods, any time during the week before 11:30am. We will collect the goods on the same day, and depending on the Fulfilment Centre you choose, they can reach their destination by the following day.
Be rid of worry and hassle! You no longer have to worry about delivery, shipping, packing, and all of that if you choose to rely on both PalletOnline and Fulfilment by Amazon services.
In the meantime, if you need any additional support or advice then please feel free to get in touch! We are always here to help.
Questions & Answers
Essentially, Fulfilment by Amazon means that you sell it and Amazon ships it. You ship goods to Amazon to be stored in their Fulfilment Centres and after Amazon receives your stock, you can monitor it through their tracking system. Customers then order your items from Amazon.
Examples of items that are not accepted through Fulfilment by Amazon are alcoholic drinks, sky lanterns or floating lanterns, vehicle tyres, gift cards or certificates, poorly packaged batteries, damaged items or items that have been illegally replicated, reproduced, or manufactured.
Normally, Amazon will spend between two and six days to make your product sellable. However, during bank holidays and the festive period, it can take longer due to delays.
Fulfilled by Amazon is products that a seller who IS NOT Amazon has sent directly to an Amazon warehouse. Amazon will then fulfil the order by packing and shipping it to its destination. On the other hand, sold by Amazon is specifically a product that Amazon itself retails to customers.
Under no circumstances can a seller deliver goods to Amazon Fulfilment Centres themselves. Only licensed delivery companies can ship good to Amazon warehouses, and even they have to book appointments in advance.