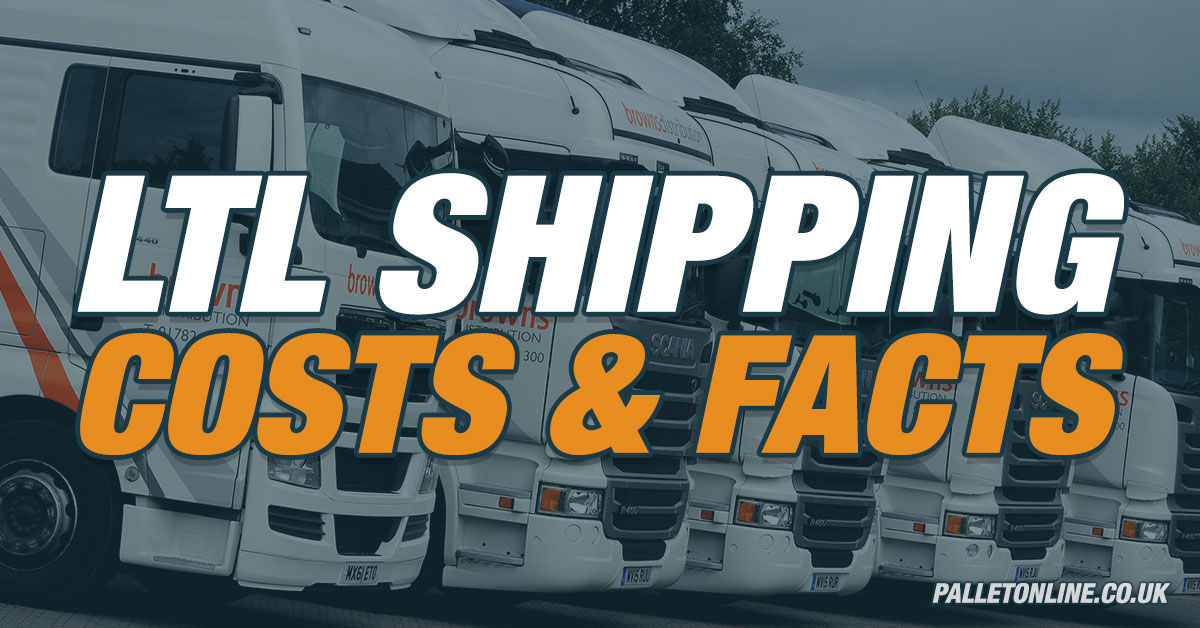 When your pallet delivery doesn't make up a full load, you're likely to wonder if there's another means of shipping everything without breaking the bank, right?
Your goods may not always take up an entire truckload, so weighing up your alternatives is a great way of keeping costs low.
Luckily, we can tell you all about how LTL shipments can prove to be the most cost-effective means of shipping fewer pallets.
Let's dive straight in!
What Are LTL Shipments?
LTL shipments take up less than a full truckload, meaning the load space is shared between multiple customers with smaller deliveries.
As the load space is shared, the total cost of delivery is split between all customers who share that space.
Smaller shipments and shared load space generally mean cheaper shipping rates as well.
But this is not the only benefit that comes with Less than Truckload.
There are many other positives and reasons to book an LTL shipment rather than shipping several individual pallets.
However, this is not all that is implied by LTL shipping as there are plenty of advantages that come with this type of delivery.
One good example is that one might even decide to split their freight shipment into smaller ones to enjoy the benefits of this type of shipping.
LTL Pallet Shipping Cost
Before rushing into booking an Amazon pallet delivery, ideally, you need to know the factors that influence and determine LTL shipping costs.
Make sure you read the following carefully before booking anything!
Consignment Weight - normally, the more goods you send through LTL, the less you pay. The more goods, the heavier the shipment and with the help of an Amazon-approved pallet courier, LTL costs can be broken down even more!
Shipment Density - to calculate the density of your shipment, you have to divide its total weight by the total cubic feet. For a pallet, you have to use its dimensions, the combined height of the carton and the pallet, along with the shipment's total weight.
Courier Journey Distance - naturally, the cost is higher if there is more distance between each location. LTL carriers serve a specific geographic area and loads are allocated to local drivers for delivery.
Delivery Location - you have to consider the number of postcodes a carrier goes through. Normally, they have an entire truckload of pallets to deliver to separate postcodes. If your pallets are transferred to another LTL carrier, higher costs may be applied.
Class of Freight - 18 different classes range from 50 to 500 and are determined by the product's value, density, handling, liability, and slow-ability. Naturally, lower classes come with lower LTL shipping rates.
These are only a few of the factors that can influence the LTL shipping cost.
Among them, we have base rates, minimums, freight of all kinds, rate tariffs that can be negotiated with the LTL carriers, possible discounts, and even accessory charges.
But you do also have to look carefully at the more advanced factors as they tend to change around at times.
To be on the safe side, you can always ask your chosen LTL carrier for more advice!
LTL Shipping Facts
Who doesn't love a fact, right?
Here's an interesting fact for you!
In 2013, the Less than Truckload industry was valued at £20.1 billion of the £530 billion freight transport industry.
This value has inevitably increased over the years as it is considered a more reliable and cost-effective means of shipping thanks to split delivery fees.
Apart from low shipping rates, LTL is also amongst the most environmentally-friendly pallet delivery options available.
Rather than one business taking up the majority of the room on one delivery truck, LTL couriers allow several companies to use the space with smaller shipments, splitting the LTL pallet shipping cost and saving valuable fuel!
Final Thoughts
So, we know that LTL shipping can work wonders for small and online businesses.
It allows you to deliver your items without having to worry about the fuel surcharges and shipping costs you'd have to pay up if you were to rely on a classic shipping company.
We have established and explained that LTL shipping rates are determined by the weight, density, distance and classification of your freight.
On that note, if you are looking to book an Amazon pallet delivery it is worth doing some calculations and research beforehand to decide whether you are happy with the LTL freight costs.
When you book an Amazon pallet delivery, you will always be asked to specify the weight, density, distance from your postcode to the delivery point and the classification of your freight before confirming your LTL freight rate.
If you struggle and need help getting everything ready for your Amazon LTL shipment, please feel free to get in touch with us.
Either call and speak with us directly or send a message using our Live Chat service.
Our friendly customer care team will always be happy to chat with you.
Alternatively, you can find more information regarding LTL shipments and Amazon pallet delivery by heading over to our Help Centre!