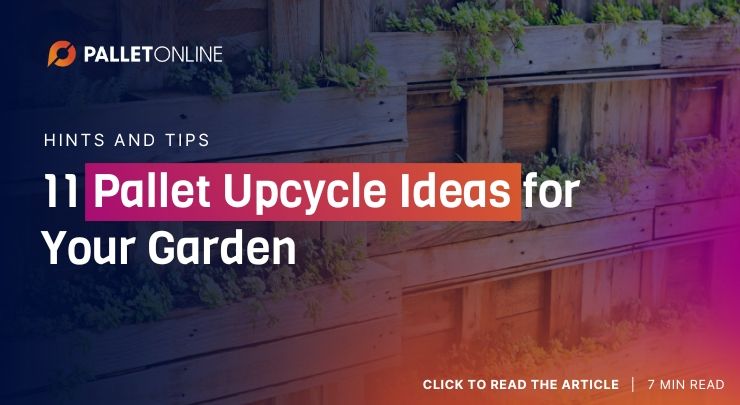 When it comes to creating a unique and eco-friendly gardening space, it's no secret that pallets are your best friend.
Available in almost any distribution yard, garden centre and online marketplace, pallets are an amazing way to upcycle used wood that may have otherwise gone to landfill.
In this blog, we've listed our top 11 favourite garden pallet projects that you can do on your own or with family and friends that are bound to give your garden that extra homely feel.
A Word About Treated Pallets
Before we jump into our list, it's vital that we discuss treated pallets and the importance of getting the correct pallets for your projects.
Almost every pallet in use is treated to preserve the wood and get rid of dangerous microorganisms that can easily spread while in transit.
There are many ways in which a pallet can be treated, but some can be dangerous.
To avoid contamination to your plants or garden, DO NOT use pallets that have been treated with methyl bromide (it's best to steer clear of pallets treated with sulphuryl fluoride, too). This is a highly toxic gas and can cause various health issues.
Methyl bromide-treated pallets have been outlawed in the UK for over a decade now, but some may still remain in circulation.
To identify which treatment method was used on your pallets, find the initials that have been etched in the wood.
To keep it simple, we've made a list of the main treatment methods, their initials and what they mean:
DB - debarked - the bark of the tree has been removed from the wood. This will probably appear on most pallets
HT - heat treated - the pallet has been heated to a minimum of 56°C for at least 30 minutes
KD - kiln dried - the pallet has been heated in a kiln to kill bacteria and pests
DH - dielectric heated - the pallet has been heated and disinfected using electromagnetic energy
SF - sulphuryl fluoride - the pallet has undergone fumigation using sulphuryl fluoride

MB - methyl bromide - the pallet has been treated using methyl bromide, a highly toxic pesticide
When sourcing pallets for your projects, only use ones that have been treated using the first four methods.
Pallet Beds
For those wanting to add a bit of rustic charm to their vegetable patch, pallets are a great way to do just that.
Pallet beds are square or rectangular wooden structures that are raised off the ground. They can help to add a wonderful organised structure to your garden.
Making a pallet bed is super simple, too!
All you need to do is disassemble the pallet so that you're left with a bunch of wooden boards (you can do this with the back end of a hammer to remove the nails, or by using a recip saw if they're being especially stubborn).
You can then simply reattach the boards together to make a square, rectangle or any shape you like. If you prefer a taller bed, you can make two or more of the same structures and stack them on top of each other.
Watch this video on how to build your pallet bed.
What are pallet collars?
In the logistics world, pallet collars are pre-made square or rectangular structures that are placed on top of pallets.
They are used to transform a regular pallet into a box or crate that offers protection to the goods that are inside.
However, pallet collars also make the perfect raised bed. Not only are they hinged on all four sides to aid in storage, but they also come in various shapes and sizes.
These fantastic features can often be picked up for a small cost at your local distribution yard or DIY store.
Pallet Fence
Pallet fences are a fantastic solution to keep your precious plants safe and sound,
There are two main ways you can utilise your spare pallets to make a secure fence - either by keeping the pallet whole and attaching multiple together or by disassembling it and using the wooden beams to create your own from scratch.
You'll probably agree that the first option is definitely the easiest, acting as an almost plug-and-play solution!
Although your pallet fence won't be able to keep the bigger critters out of your patch such as deer or foxes, it will certainly be able to keep pesky mice or rats at bay.
Read this article to find out how to build your pallet fence.
Pallet Compost Bin
Making your own compost is not only better for your wallet, but it's also an excellent way to tackle food waste.
But before you start to compost those leftover spud skins, you need somewhere for the magic to happen, right?
If you already have a few pallets lying around, great! They'll be the perfect candidates for your new compost bin.
As pallets are already the perfect size and height for a compost bin, there's no need to whip the hammer and saw out this time.
Watch this video to learn how to build your own pallet compost bin.
Pallet Potting Bench
For those wanting to get stuck into a project for the afternoon, making a potting bench out of some used pallets is a great choice.
To the avid gardener, there's nothing more useful than a sturdy potting bench to sow seeds, fill up pots and store some tools.
This wonderful project is highly adaptive, and you can personalise your potting bench to be just how you like it. If you think you'd benefit from a shelf or a space for a soil tray, go for it! The world really is your oyster with these.
Browse this article to find out how you can build a pallet potting bench.
Upright Pallet Planter
If you're a little tight for garden space, using an upright pallet as a planter is a superb way of growing your fruits or veggies.
The gaps in pallets are the perfect size to house a few plants, and they make a great addition to an otherwise mundane wall.
You can utilise empty compost bags or weed membrane and staple them to the inside of the holes to contain the soil for your plants - make sure to poke a few holes in the bottom for drainage!
We recommend using your pallet planter to grow shallow plants like herbs or fruit such as strawberries. You could plant shallow-growing vegetables such as radish too, but make sure you keep on top of watering as they'll be prone to drying out.
Watch this video to discover how you can utilise a pallet to build your own upright pallet planter.
Pallet Decking
Believe it or not, pallets can make an excellent alternative to patio decking - after all, they are pretty much made up of a bunch of floorboards, right?
So, if you're looking for an affordable way to spruce up your backyard, utilising used pallets may be your way forward.
However, if you're using pallets for decking that are going to be in an exposed area, you'll want to weatherproof them by applying wood treatment so they don't rot.
Pallet Cold Frame
For the more experienced gardeners, extending the length of your growing season using a pallet cold frame is a great way to ensure you have a harvest all year round.
To the unfamiliar, cold frames are simply boxes that are placed on the ground with a sloped glass or plastic lid attached.
Cold frames sort of act like a mini greenhouse, and are a quick and affordable way of keeping your precious plants safe and warm during winter.
Luckily, these structures are pretty simple, and building them out of a couple of used pallets and some glass, acrylic or polycarbonate should be a nice and quick garden project.
Have a watch of this YouTube video to find out how to build an affordable pallet cold frame.
Pallet Archway Trellis
If you're looking to add a bit of style to your garden, building an archway trellis out of some pallets is a great option.
Depending on the height of your archway, you'll need around 10 pallets for this project, so it's great if you have a stack of them lying around.
To add a bit of extra charm, we recommend sowing a few climbing plants next to your archway like pumpkins for an extra spooky surprise.
Pallet Furniture
For those who often find themselves relaxing in their garden, why not try and build some furniture out of your used pallets?
That's right, pallets are very strong structures, so they're great for making furniture such as tables, chairs and benches.
Like the pallet decking we've mentioned, if your furniture will be located outdoors, you'll want to treat your pallets to weatherproof them.
Once you've done that, you can paint them whatever colour you like - you can even get the kids involved!
Have a read of this article to learn how to build pallet furniture for your garden.
Pallet Birdhouse
Watching wildlife do its thing is a mesmerising experience, and what better to do just that than to build your own birdhouse or bird feeder from a spare used pallet?
To keep your birdhouse safe and sound, we recommend placing it at least 1.5 metres above the ground.
Also, to make sure you don't ruffle any feathers (pun intended), make sure to sand down the wood so it's free of any rough surfaces.
When treating your birdhouse, you'll want to use an animal-friendly treatment or paint so you don't harm your fluffy friends.
Treat your local wildlife and discover how to build a super simple pallet birdhouse.
Pallet Garden Signs
Lastly, pallets are an amazing choice for wooden garden signage as they are extremely versatile and can be used for a variety of things.
Making a sign from a pallet is very simple - just disassemble it into its separate planks and paint away!
Not only that, but you can also make your signs in whatever shape you like, whether it's just rounding off the edges, or gluing different pieces of wood together to make an intricate design.
---
In the world of gardening, it's safe to say that creativity knows no bounds, and with pallets being your blank canvas, the sky is the limit for what you can create in your green space.
From garden gates to brilliant birdhouses, we hope you feel inspired to explore the huge potential your used pallets have to offer.
If you enjoyed these top tips, you're in luck! You can find more in our library of hints, tips and industry news articles.