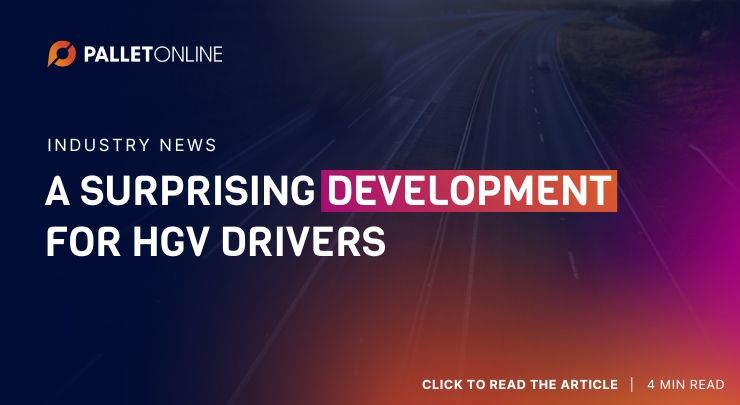 A few months ago, we covered the awful state of the UK's truck stops and facilities and how they are having a detrimental effect on lorry drivers around the country.
It's vital that truckers are provided with clean, safe and adequate facilities to complete their legal rest breaks, and without this necessity, it can make truck driving dangerous, unhygienic and stressful.
Yesterday, the Department for Transport made an announcement regarding the ever-growing issue of truck stops in the UK. Is it a welcome announcement, or will it just add fuel to the fire? Let's find out…
The Vital Role of Lorry Drivers
It's no secret that lorry drivers are the absolute unsung heroes of our roads. Transporting tonnes of goods daily, HGV drivers play an enormous part in the country's (and the world's!) economy and infrastructure.
In fact, a staggering 1.64 billion tonnes of goods were transported by GB-registered HGVs in the UK during 2022.
If you take a look around you now, chances are, most of what you see has been on the back of a HGV at some point. Crazy, right?
As we dive deeper into the crucial role of lorry drivers, we'll uncover the enormous impact truck drivers around the world have in keeping supply chains moving, and without trucks on hand to transport food, household goods, electronics, fuel and clothes (let's face it, we'd be here all day if we listed everything!), it's safe to say the world would enter economic turmoil.
With that being said, it's safe to assume that the government would do all they can to make sure HGV drivers are comfortable, safe and protected, right?
Well, not quite.
The world of HGV driving can often be gruelling, and it's vital that drivers are supplied with a suitable place to rest and use toilet facilities. Unfortunately, that's not always the case.
Recently, lorry drivers have spoken out on the state of driver facilities in the UK, and it's not a pretty sight, with some drivers calling the country's truck stops the "worst in Europe". A recent Panorama documentary showed the sorry state of our facilities, and cramped showers and dirty toilets were a common occurrence.
The £8 Million Funding Announcement
To the joy of many, the Department for Transport has recently announced that they will provide £8 million worth of funding to truck stops and rest areas across the country, hopefully improving the well-being and mental health of many truckers.
On top of the £8 million funding, truck stops will also receive £11 million from the industry.
Stage 1 of the funding will initially aim to improve 39 stops across the country and will include welfare improvements (showers, toilets and rest areas), security and parking.
Roads Minister, Richard Holden said:
"Day and night, our lorry drivers and hauliers work tirelessly to deliver essential food, goods and medical supplies up and down the country

"As we continue supporting the haulage sector in playing its crucial role in helping to grow the economy, these first winners will help ensure lorry drivers have great facilities where they can safely park, sleep and rest."
Yesterday also marked the launch of the second window for rest stop providers to bid for further funding and improvements.
It's safe to say that these improvements have been a long time coming! The initiative was sparked by "The National Survey on Lorry Parking", which provides the government with vital feedback on what parts of the UK's logistics infrastructure need improvement.
Upgrading Rest Areas and Amenities
As mentioned, the current state of rest stops and amenities has come under fire recently as drivers begin to question their safety and access to clean facilities.
Rest breaks are a legal requirement in the UK, so it's scandalous that drivers haven't had access to appropriate rest stops until now.
An abundance of drivers have complained about the security of the country's truck stops, with many often being ungated and extremely prone to criminal activity, such as curtain slashing or fuel theft. With a trailer full of goods parked in a vulnerable place at night, it's understandable why truckers feel that their safety is being neglected.
Adequate working toilets and cleaning facilities, another legal requirement, have also been criticised.
In the previously mentioned Panorama documentary, one UK rest stop toilet is shown to be filled with saturated toilet paper, and there was only one shower expected to serve 45 drivers.
Not only that, there was an abundance of vending machines offering unhealthy snacks for high prices - not ideal for a lorry driver.
The exact details of these new improvements haven't been published as of yet, but we hope to expect cleaner toilet facilities, more showers, access to healthier food and a crackdown on site security.
A large part of HGV driver unhappiness stems from unfavourable facilities, so the new funding will, hopefully, aim to boost mental health and morale for truckers across the country.
The Positive Impact on the Industry
It's to be expected that, with increased driver morale and happiness comes higher efficiency in the logistics scene.
As the overall state of the UK's facilities improves, lorry drivers will hopefully gain a cleaner, safer and more restful trucking experience, and with everything that they do for our economy, it's about time.
Not only that, but higher quality rest means more energy, which will contribute to a healthier and safer supply chain as jobs are completed quicker and reaction times increase, also making our roads safer. It's a win-win situation for everyone!
Richard Smith, Road Haulage Association Managing Director, commented:
We are pleased that the first tranche of grants has been announced and that lorry drivers will soon benefit from the improvements this scheme is helping to fund.

We would encourage other operators to apply for funding to help them upgrade, too. Better facilities and more safe and secure parking for truckers are a key priority for our industry.
If you wish to apply for the HGV parking and driver welfare grant scheme, you can do so via the government website.
The recent HGV driver shortage showed us a glimpse into the poor job satisfaction rate in the trucker community. With the new facility funding, it's hoped that the driver retention rate will increase, and the overall number of HGV drivers transporting essential goods will grow, leading to even more efficient transport operations.
---
In this blog, we discussed the welcome £8 million funding for truck stops around the UK and the effects these improvements will have on lorry drivers, the logistics industry and the supply chain.
Our Key Takeaways
Lorry drivers in the UK and worldwide are unsung heroes of the supply chain and logistics industry, and they deserve to have access to toilets, showers and safe parking spots. Sadly, this isn't always the case.
Currently, HGV drivers throughout the UK suffer from many challenges on the road. Aside from long working hours, there's a constant battle of trying to find clean and safe truck stops to complete their legal rest breaks.
An exciting £8 million funding initiative has been launched by the DoT that aims to provide service stops across the country with better facilities and safer parking spaces.
Improved rest stops are hoped to boost driver morale and well-being, which is expected to contribute to higher retention and satisfaction rates and a more efficient supply chain.
Looking for more industry news like this? You're in luck!
We have an ample range of recommended reads for you to dig into.