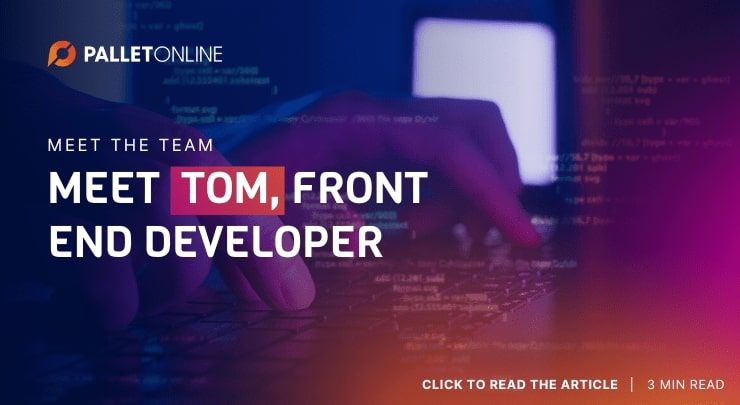 Welcome back to August's Meet the Team blog. Who's excited? We are!
Today we're shining the spotlight on Tom, one of our awesome front-end web developers.
A huge part of Tom's role here is to make sure that our website is in working order and looking pristine, and he does a great job of it, don't you think?
If you're interested in how Tom keeps the PalletOnline site ticking, then buckle up and let's begin!
Hi Tom, could you tell us a bit about yourself and what you get up to at PalletOnline?
Hi, I'm Tom and I am a frontend web developer from Stoke. I've been working in web development/software for around 7 years now, working in a range of roles, including front & backend web development and as a software consultant.
Outside of work, I really enjoy travelling. When I'm not able to get away from the UK, you'll probably find me watching The Chase, reading, on my computer or in the pub.
What's it like working with the PalletOnline team?
The team is great, everybody works well together and gets stuff done.
With the development team being quite small, it allows us to move fast and make improvements & decisions without a lot of the red tape and bureaucracy you tend to get when teams get much larger.
The synergy really is awesome!

Without further ado, it's time for a round of 10 quick-fire questions!
If you could learn any language in a week, which would it be?
I'd probably go with Spanish since it's one of the most spoken languages in the world.
What is one food you would never want to give up?
It's got to be steak. My wife went vegetarian a few years ago and when she initially decided to become one, I went veggie with her – but I only lasted a month or so before I ended up falling off the steak wagon.
The steaks were high that day...
What is your favourite genre of music?
I don't really have a favourite genre – I just listen to anything that sounds good depending on the mood I am in. My Spotify playlists are an enormous mix of pure bangers and absolute trash, and I wouldn't have it any other way.
What is the worst film you've ever seen?
I watched a film called ATM on Netflix once and I am still angry about the one hour and thirty minutes they stole from my life. It's absolutely dreadful and I encourage anybody reading this to give it a wide berth.
Who's the best web developer on the team?
I'm not falling for that one!
Sorry
Matt
, maybe next time!
What was your first job?
When I first left school, before starting college, I worked as a labourer for a plastering company. In terms of my first tech job, I started out as an account manager at a local company before moving into their development team.
Do you have any pets?
I have an 8-year-old puggle named Woody and he is absolutely insane.
While we're on the topic of dogs, what do you give a dog with a fever?

Mustard, it's the best thing for a hot dog...
Who's your favourite comedian?
Really tough question and I can't pick just one, so I will name a few: Bill Hicks, George Carlin & Ricky Gervais. A big shout-out to Bill Burr too!
Are you a summer or winter type of person?
I don't mind summer or winter; it all depends on what you're doing. Summer is awesome for getting out and about, popping to the beer garden and having BBQs with friends & family. Meanwhile, winter in the Rocky Mountains is one of my favourite memories of all time.
That sure sounds incredible!
What's your biggest pet peeve?
People walking slowly, randomly stopping or blocking the way – especially in supermarkets. If you block the aisle with your trolley, then it might have gone on a little adventure to a different aisle by the time you return.
---
That's all for today! We hope you've enjoyed getting to know a bit about Tom. We sure have!
If you'd like to meet more of the amazing PalletOnline team, you're in luck. We have a library of Meet the Team blogs ready and waiting for you.
But wait, before you go... don't miss out on our unmissable 5% OFF deal given only to our most valuable readers like you!