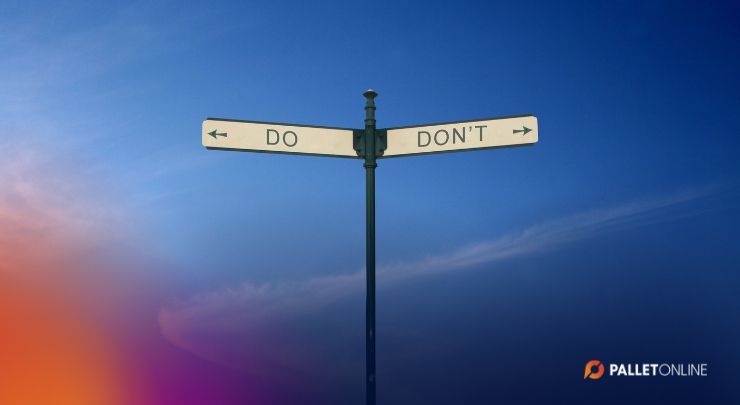 Amazon FBA shipping can be a total game-changer for businesses that wish to streamline and enhance their processes. By using Amazon's own fulfilment service, sellers no longer have to worry about providing the space or resources to pick, pack or ship their products.
However, Amazon FBA can be a rather meticulous process at times, and there are many dos and don'ts that you'll need to follow to be successful, but don't fret! Whether you're a seasoned seller or just starting out, this blog will guide you through the rights and wrongs of FBA shipping
Do Choose the Right Pallet
In a world where pallets come in all shapes and sizes, it's vital that you choose the correct type for your Amazon FBA shipments. The type of pallet you use can make a huge impact on the overall stability of your goods during transit.
With this in mind, Amazon have rules regarding the type of pallets that are allowed in their fulfilment centres. When sending your FBA delivery, make sure that you're using standard wooden pallets. Amazon prohibits the use of plastic pallets in their warehouses, so make sure you stick to their wooden counterparts to avoid rejection.
You'll also want to make sure your pallets are the correct size. To be on the safe side, we recommend you use standard, 4-way wooden pallets for your shipment, measuring 1.2 x 1.0 metres. These pallets are usually the most accepted and recognised within logistics, so they should be an ideal choice for all your deliveries.
Not only that, you can find standard wooden pallets pretty much everywhere, including hardware stores, distribution yards and even online!
Do Use Quality Packing Materials
Packing materials are arguably one of the most important aspects of your shipment, and they can ultimately make or break (no pun intended!) your pallet delivery. Protecting your goods with high-quality stretch wrap, strapping and edge protectors will ensure they're safe from knocks and bumps.
Without suitable protection, your goods will be extra vulnerable, and even minor bumps can cause damage.
However, just like pallets themselves, there are some things to take into consideration when purchasing packaging for your goods. For instance, Amazon will likely reject pallets that are wrapped in black wrap as they need to quickly identify the contents. Similarly, pallet boxes or gaylords are also not allowed, so make sure your goods can be seen from all angles when packaging your pallet.
Luckily, high-quality packaging materials can be purchased from a wide range of places, including DIY stores, online and on the PalletOnline shop!
Do Properly Label Your Shipment
It comes as no surprise that labels are an essential part of your shipment. Without them, nobody would know what your goods are and where they're destined to. So, where do I find my labels and where do I stick them? We're glad you asked!
When sending a shipment using Amazon Seller Central, you'll be able to print your labels when you reach "Step 3 - Print box labels" in your workflow. Amazon will then generate your shipping labels for you to print. If you don't have a label printer to hand, you can print them on standard A4 paper, but bear in mind, you'll need to place one Amazon label on each side of your pallet.
If you're using PalletOnline to ship to Amazon, you'll need to attach one more label (which we provide at checkout) to your pallet. This will help us identify your goods when they're travelling through the network, and your Amazon labels will be scanned when they're inside their warehouse.
When sticking your labels to your shipment, you'll need to make sure they're clearly visible and not damaged in any way. If the barcodes look smudged or unreadable, you'll have to reprint them.
We also recommend double-checking all the information on the labels to make sure it corresponds to what's on your shipping plan. It's always worth being extra diligent during this step to avoid inconvenience later down the line.
Do Utilise PalletOnline's FBA Service
Although the price of a partnered carrier may seem appealing, we truly believe that the industry-leading reliability and efficiency you'll receive from PalletOnline far outweighs the cheap price tag of other delivery services.
When you use PalletOnline for your FBA shipments, you'll have access to the UK's #1 pallet delivery network, including industry-best customer service, available via live chat, email, Whatsapp or phone. What's not to love?
Not only that, booking into Amazon is as easy as pie. Simply create a shipment in Seller Central as normal, and head over to our Amazon page. There, you can get a free quote, choose your collection and delivery dates and checkout safely and securely. All you'll need to do is provide us with your order reference (PO number) and FBA number.
Don't Ignore SEO
"What's SEO?" You may ask.
SEO stands for Search Engine Optimisation, and it's an essential skill to have if you want your products to appear first in Amazon's listings (let's face it, who doesn't?).
Just like Google, Yahoo and Bing, Amazon also acts as a search engine. When you search for a product, Amazon's algorithms will show you the most relevant listings based on the keywords you use.
For example, if you searched for a "backpack for boys", you'll receive results that best match your request, usually the ones with the most reviews and purchases.
To practice good SEO techniques, make sure to include as many relevant keywords in your product titles and descriptions. This will give them the best chance of being seen on results pages.
Don't Overpack Your Pallet
Although it may seem tempting to want to load as much stock as possible onto a single pallet, it's definitely a bad idea! Doing this can create an uneven weight distribution, and may even make your pallet too heavy, which is an absolute no go for FBA shipping.
Not only will your pallet be over Amazon's 1000kg weight limit, but it'll also be very unstable, meaning it could collapse or get damaged at any moment. An unstable pallet is also dangerous and unsafe for workers transporting it, as it'll be difficult to handle using a forklift or pallet jack.
Additionally, if your pallet overhangs the edges, it may not even make it onto the trailer! When sending stock anywhere on a pallet, you'll want to make sure your goods never overhang, otherwise, there might not be any room for yours or others' shipment.
By striking a good balance between quantity and weight, you can ensure your goods will arrive at their destination quickly and safely.
Don't Mix Products from Different Shipping Plans
While it's understandable that you might want to ship different products on the same pallet to reduce shipping costs, this may cause trouble later down the line, especially if they belong to different shipping plans.
Each shipping plan is almost treated as a separate shipment, so by bundling them into one pallet, you could cause confusion and delays when they enter Amazon's warehouse, especially when it's time to fulfil your goods.
If your goods are under the same shipping plan, it's generally considered safe to transport them on the same pallet as long as a "Mixed SKU's" label is attached. Doing this will ensure Amazon's team know that your pallet is a mixture of different products.
Don't Ignore Amazon's Shipping Guidelines
One of the biggest mistakes when shipping your goods to Amazon is ignoring their shipping guidelines altogether. Doing so will ensure you get a one-way ticket to rejection, or even worse!
Amazon's shipping guidelines exist for a reason: to keep their workers safe and to ensure maximum efficiency. If you go against these rules, such as shipping your goods on a plastic pallet with black stretch wrap, they'll be rejected, and you may even incur additional charges.
If you're found to break the rules maliciously, such as leaving fake reviews on your products or sending counterfeit stock, Amazon will likely suspend your account, meaning you'll no longer be able to sell on their platform.
So, in order to stay on Amazon's good list, take some time to familiarise yourself with their Shipping Guidelines.
---
Knowing the dos and Don'ts of Amazon FBA shipping is essential for running a successful business. By following all eight guidelines in this blog, you can enhance your shipping processes, lessen the risk of damaged goods and ensure a seamless experience that meets Amazon's FBA requirements.
For a game-changing delivery service into Amazon fulfilment centres, PalletOnline is your go-to choice. Get a free and instant quote or find more about our FBA service on our Amazon page.