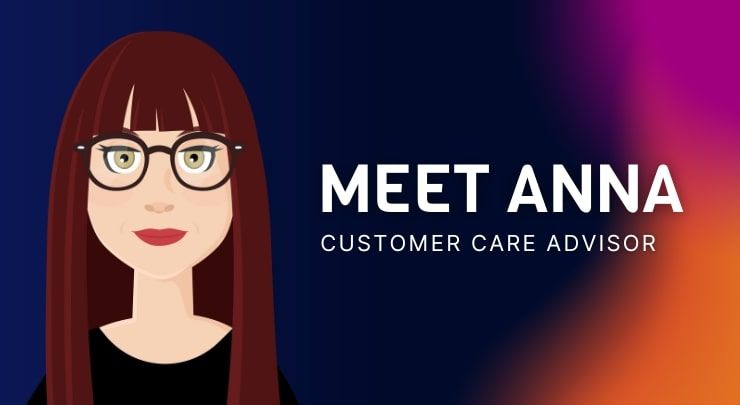 Welcome to this month's edition of our Meet the Team series! Today, you'll be getting to know the newest member of our customer care team, Anna.
Let's get started!
Could you tell us a bit about yourself and what you get up to outside of PalletOnline?
Hi there, I'm Anna. When I'm not at work, I am a proper home bunny and love spending time with my family and friends. My two sons (and sometimes my husband!) are my main priority.
You're currently the newest member of our customer care team. How have you found working for PalletOnline so far?
I've really enjoyed working at PalletOnline so far. There have been a lot of new processes to learn, but everyone in my team is very helpful and I don't feel like I'm putting them out when I need to ask a question. I was made to feel very welcomed from day one.
That's amazing to hear. We're extremely proud of our team!

Without further ado, it's time for quick-fire!
What is your favourite thing to do in the summertime?
Definitely being by the sea, if I can't go to the seaside, I love BBQs in the garden.
What is your go-to lazy dinner?
It has to be cheese on toast with tinned tomatoes.
Ah yes, the ultimate comfort food!
If you were to write a book, what would it be about?
It would be a book to myself to tell me that I can do it and not be too hard on myself.
Do you have any pets?
I did have a dog but he was very ill and had to go to sleep last year. I miss Dave every day.
If you could afford any car, which one would you drive?
I'd drive a Subaru Impreza WRA, but it has to be blue with gold wheels (a complete chav car, I know).
Great choice!
What's your favourite ice cream flavour?
Tough one. I only really like Mr Whippy Ice cream, so let's go with that.
Do you like to read?
I do! I really enjoy true crime books.
Speaking of crime, back in the day, excessive use of commas was considered a very serious crime.

It usually resulted in a really long sentence.
What was your favourite subject in school?
I'd say my favourite subject was probably maths.
If you could live anywhere in the world, where would it be?
Definitely Greece – amazing food, people and location.
Do you have any hidden talents?
Yes! I'm pretty good at baking if I do say so myself.
I love baking too! Just don't expect any edible results...
---
And that's a wrap! We really hope you've enjoyed getting to know Anna; make sure to keep your eyes peeled for the next Meet the Team blog.
Our Gift to You
Thank you for being a valued reader!
Here's a special gift from us. Use it wisely...