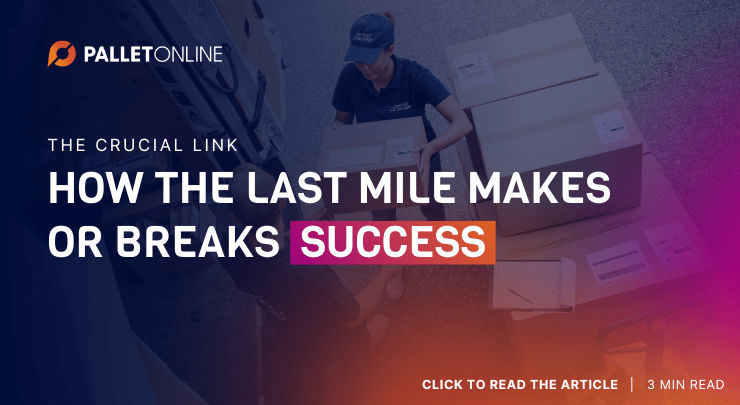 In the wonderful world of logistics, there exists a phase that holds exceptional significance - The Last Mile.
Don't worry, our blogs haven't taken a morbid turn; instead, we'll be focusing on a different last mile - the final push in the delivery process, and why it's criminal for businesses to neglect this vital aspect of logistics.
Why the Last Mile Matters
The last mile can be considered the "final frontier" of logistics, and undoubtedly holds significant weight when it comes to satisfaction. As the name probably suggests, the last mile is the last leg of the goods' journey, where they travel from the distribution centre (or supermarket in the case of grocery delivery) to the consumers' doorstep.
The last mile is make or break for most businesses and delivery firms, and is where the success of the overall process is measured as it directly impacts company reputation, customer loyalty and satisfaction. In a world where speedy delivery is now a given, it's vital that the last mile is optimised, otherwise, it could spell disaster for the company.
While a successful last mile delivery relies on many factors such as efficient route planning, tracking options, and friendly drivers, customers want nothing more than super speedy deliveries, and with the advent of next, and even same, day delivery, it's now an expectation rather than a luxury.
Helen Scurfield, Innovation & Development Director at Asendia UK stresses the importance of the last mile in customer satisfaction:
"For online businesses, the last mile is crucial. It's not just about completing the supply chain; it's a make-or-break moment that directly affects reputation and bottom line. Smooth last-mile delivery builds trust, reflecting a well-orchestrated operation, showcasing efficiency and reliability. On the other hand, any slip-ups or delays during this critical stage can lead to disgruntled customers, negative reviews, and, worst of all, customers looking elsewhere for their needs.
"Customer expectations for next-day delivery have skyrocketed in recent years, fuelled by the rise of e-commerce giants and on-demand services. In Asendia's recent survey of 8,000 consumers across North America, Europe and Hong Kong, 'speed' was selected as the most important factor regarding delivery, with 44% saying this on average across the sample."
Overcoming Last Mile Challenges
Many factors can add to the challenge of perfecting the last mile, but the main one to consider is traffic and urban congestion.
Urban environments can pose many obstacles from traffic to road closures, and they can all drastically affect the punctuality of a customer's delivery. Because of this, companies must find ways to negate the effects of travelling through the city maze by planning and optimising routes to minimise delays.
Many haulage firms utilise modern real-time traffic monitoring and route optimisation systems kitted with advanced algorithms that can warn of potential delays and reroute accordingly, potentially avoiding a negative last-mile experience for the customer.
However, not everything can go to plan, which is why it's practically impossible for logistics companies to operate with a 100% success rate, as the unexpected delays presented by the outside world are sometimes unavoidable.
In B2B, and even many B2C, applications, the risk of a disappointing last mile is often remedied by 'delivery windows' that are agreed on before the delivery takes place. This way, hauliers can plan more efficiently as they're less pressured by eager consumers and can stick to a schedule that is agreed upon by both parties.
Efficient inventory management also plays a big role in the success of last mile delivery. As this is the final stretch of the process, it's paramount that the correct goods are picked, packed and shipped as quickly as possible. By implementing a suitable inventory management system, businesses can optimise stock levels and reduce the risk of over or under-stocking, which will never bode well when a customer has already paid and is waiting for the delivery of their goods.
The Human Element in Last-Mile Delivery
Although speedy deliveries take the reign during the last mile, the importance of driver attitude cannot be overlooked. Although technology and artificial intelligence has transformed logistics, the human element is irreplaceable.
Customers, rightly so, expect a kind, professional and courteous delivery driver, and when this isn't met, it can heavily damage brand reputation and customer loyalty. On the flip side, well-trained and mannered drivers will often leave a positive lasting impression on the company.
As the customer very rarely sees the complex internal operations within logistics, the drivers are responsible for representing the company not only at the customers' doorstep, but at every point of the last mile, including while they're on the road.
Despite this, it's important to strike a balance between human touch and automation. Although tech is great for keeping the industry organised and punctual, customers often prefer the human interaction of a delivery driver.
This, of course, can't be automated when it comes to freight or postage, but for things such as supermarket deliveries, companies are already one step ahead of the curve by manufacturing "delivery robots" that autonomously roam the streets to complete the last mile.
Time-Sensitive Goods and Perishables
Optimising the last mile becomes much more difficult when we add perishable and time-sensitive goods into the mix.
When sending goods such as meat, dairy and even confectionary, it's crucial to strike a balance between optimal delivery and preserving product quality. With these types of products, every hour that passes can potentially affect the taste, freshness and overall appeal, meaning that an extra risk factor is added to an already delicate last mile process.
It's no surprise that opening a delivery of spoilt milk or bloomed artisan chocolate is extremely damaging for all parties involved, as this now adds a level of inconvenience for the consumer, who now has to initiate a return, replacement or refund process.
Gemma Whitaker, Marketing Director at Whitakers Chocolates, outlines the daily challenges they face when preserving delicate confectionary:
"Managing the last mile delivery isn't just about speed and efficiency in our industry; it's about preserving the integrity of our product. We deal with chocolate - a delicate and temperature-sensitive item. A delay or mishandling in this crucial stage could impact product quality, turning what should be an experience of indulgence into disappointment.
"Therefore, for us, mastering the last mile delivery is not just about meeting delivery timelines, but also ensuring our chocolates arrive in perfect condition, providing the premium experience our customers expect and deserve."
Fortunately, solutions are in place to preserve perishable and temperature-sensitive produce during transit. Larger haulage companies will employ specialist temperature-controlled trailers or containers to maintain a suitable environment to keep stock from spoiling.
This cool solution paired with today's modern traffic monitoring systems and algorithms can almost negate the issue of fragile goods, but for smaller, more independent hauliers? Well, they might not be so lucky.
As expected, trailers don't come cheap, and once you attach what is practically an air conditioning unit to the front, the cost can quickly mount up.
In lieu of this expensive equipment, some companies often turn to other methods of transporting sensitive goods, such as utilising ice packs (especially if the journey is short) and thermal pallet covers.
---
Among the intricate web of logistics, the last mile remains an extremely important and powerful part of the delivery process, making or breaking a company's reputation and customer loyalty.
As we navigate the ever-growing world of commerce, it's clear that the last mile isn't just a physical stretch, but also a vital juncture where customer satisfaction, brand reputation and product quality all connect.
Our Key Takeaways:
The last mile is a crucial part of the delivery process that cannot be overstated, often leaving a lasting impression on the company
In a survey of 8000 consumers, "speed" was selected as the most important factor regarding delivery
One of the main challenges presented to delivery companies is urban traffic congestion, which can cause significant delays and damage customer satisfaction
Efficient traffic and inventory management systems are vital for predicting potential traffic issues and ensuring goods can be quickly accessed and loaded onto a vehicle
Customers expect a friendly and courteous last mile experience, and autonomous solutions aim to remove the issue of rude drivers
Delivering time-sensitive and delicate goods can pose an extra challenge to businesses that need to ensure fresh goods are delivered to the customer
Interested in more industry news? Our blogs are written in-house and offer an engaging way to read about the fascinating world of logistics.