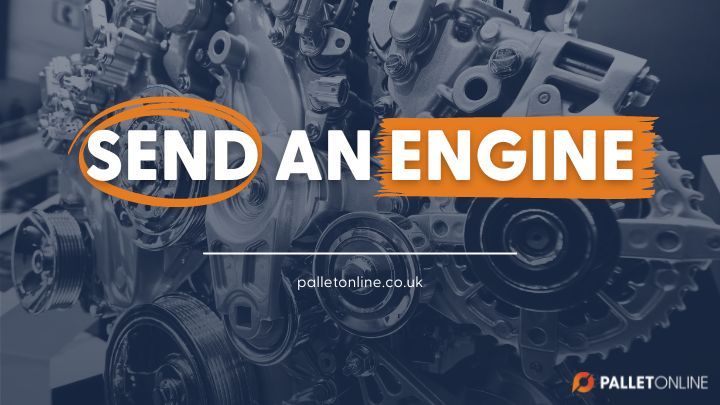 The key to a successful engine pallet delivery is knowing how to pack everything properly, but getting this part wrong can cost you more than you'd bargained for.
If your pallets aren't packed properly, you ultimately run the risk of your engine being refused or worse, becoming damaged beyond repair in transit.
Luckily, we're here to tell you how to send your engine on a pallet with no issues or delays.
So, get ready to take notes and let's dive straight in!
Secure Your Engine for Delivery
New and old engines are far from cheap. On the contrary, both represent quite a sizeable upfront investment.
With this in mind, it's important not to skimp on getting the right packaging materials and contributing every effort to packing your engine properly the first time around.
Skimping means that your engine is more likely to become damaged in transit. Not to mention that the courier handling your pallet may refuse to transport your engine if it isn't packed to their requirements.
Pallet couriers who agree to ship engines always (without fail) assess the risks involved with transporting engines through their delivery network.
To that end, shipping a used engine can be more problematic compared to the likes of a new and unused engine.
This is specifically because there are generally traces of residual fluids in used engines that must be fully drained before the engine is secured to your pallet.
Residual fluids inevitably lead to leaks and spills during transit, thus putting the courier and those at the collection and delivery points at risk.
For this reason, we recommend placing some absorbent materials on the pallet before positioning your engine flat on the structure. This will help clear up any remaining fluids that are trapped in the engine.
The courier is also more likely to accept your engine through their network if you have used additional protective materials, like oil-resistant rags.
Ensure There Aren't Any Drain Fluids Left
Whether you pack and wrap the pallet yourself, it's your responsibility to eliminate the remaining drain fluids before contacting a pallet courier to transport your engine.
You should ideally aim to do this before the courier arrives, as this process can prove timely in some cases. Plus, you must be fully confident that there are no more traces of fluid whatsoever.
If your engine leaks during its journey to the collection depot, the courier may refuse to handle it any further and you will have to pay to have it returned to you.
Wrap and Pack the Engine Accordingly
If you're planning to ship a used engine, after draining all fluids, you should wrap it before handing it over to your designated pallet engine courier.
Ideally, you should start by sourcing a suitable wooden box or support frame for the engine to sit within during transit.
This should also contain additional protective packing materials, like absorbent rags and packing foam. Both will provide adequate protection for your engine during its journey.
Furthermore, before the courier arrives to pick the pallet up, your engine must be properly secured to the pallet. This will stop your engine from moving frantically, or at all until it reaches the delivery point.
Label the Engine
Labelling your engine might seem a tedious task, but it's crucial when it comes to calculating insurance and weight, even.
When it comes to labelling your engine, you should make sure you have specified the model and type of engine you are shipping.
The courier may also need the above details when completing paperwork on their side, on collection and delivery.
Final Thoughts
Once you are confident that your engine is packed correctly, you can finally look for a reliable engine pallet courier that will transport it to your desired address.
Also, make sure you've chosen a reputable pallet courier so you can be sure that your engine will reach its destination safe and sound.
Finally, as mentioned earlier, it's down to you to eliminate any traces of drain fluids before collection.
For more details regarding sending an engine via a pallet delivery, please get in touch with us directly.
Alternatively, head over to our Help Centre for more expert advice and top tips!
Questions & Answers
Shipping an engine with PalletOnline is cost effective and reliable. The cost will depend on the weight and number of pallet spaces you require. You can send engine parts with us as a leading engine courier.
We have plenty of engine tips, whether it is a new engine or a second hand engine.To arrange your engine courier service, simply head to our home page to get your free quote.
Our engine courier service can collect your goods on the same day. We can then send engine parts to your chosen destination. The process can take a few days but this depend on the location.
The engine should be fastened to a pallet by using a ratchet strap. Two bands of steel banding should ensure that your new or second hand engine is secured. All straps and bands need to be protected when they are in contact with the engine.
As a leading pallet courier with low prices, we are ideal for both small and large businesses. Our pallet delivery prices are very cost effective and we have a range of different sizes available.To check our prices, simply get your FREE pallet delivery quote today.
As a leading pallet courier with low prices, we are ideal for both small and large businesses. Our pallet delivery prices are very cost effective and we have a range of different sizes available.To check our prices, simply get your FREE pallet delivery quote today.
Our pallet delivery service provides one of the cheapest ways to ship heavy items. If you are looking for an engine courier who can send engine parts of all sizes and weights, you have come to the right place.Head to our home page to get a FREE pallet courier quote today.