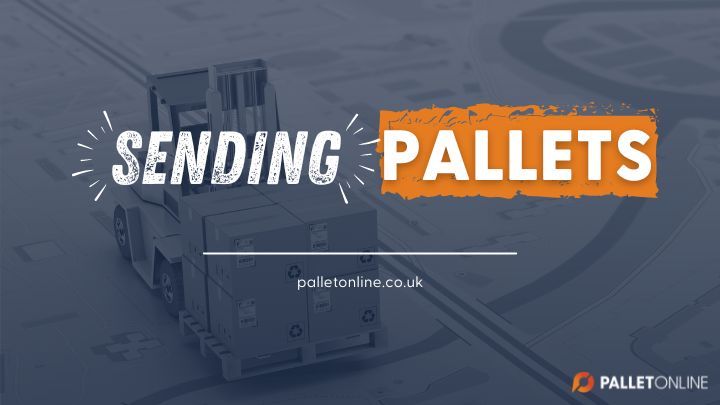 There are plenty of factors that could help you realise that the best way for you to send your goods is on a pallet.
Say for example, you have some heavy items that you have successfully sold; simply boxing and delivering a large item would prove rather expensive compared to shipping your goods on a pallet.
Depending on size, when you have to ship more than one box you may end up stacking around 20 boxes on a pallet.
Again, if you were to ship the boxes one by one (as loose items) you would face higher costs than when shipping pallets.
With that in mind, we are going to provide you with a guide to shipping pallets.
If you want to send a pallet in the near future then keep reading!
Things That You Need
Pallets must be eligible for shipping before the courier allocates a pallet space for your goods. Therefore, they must be properly packed and if you fail to ensure this, the pallet courier can and is very likely to refuse shipping altogether.
Here are the things you will need to properly prepare a pallet:
Pallet - the pallet of your choice should be strong and in a good condition; you can buy one from hardware stores or have the courier make one available for you if they offer this type of service.
Cardboard Boxes - these will be used to store the items that will be placed on the pallet; they should be sturdy and undamaged.
Foam - this will be used to provide internal cushioning for the cardboard boxes.
Packing Peanuts - again, these will be used to cushion your items and prevent any damage during transit.
Duct Tape - used for box sealing.
Liner Paper - liner paper is used as a lining between the cardboard boxes so that there is no friction between them when they are on the pallet.
Plastic Bands - these will be used to strap the packages on the pallet; they should be strong.
Preparing The Pallet For Shipping
Remember that the pallet must be large enough to fit all your items. Moreover, none of the boxes should overhang the edges. After you finish preparing the pallet, it is advised that you leave plenty of space on the edges.
When it comes to boxes and the items inside them, they should be properly cushioned. So, put a lot of cushioning inside and use excessive amounts of duct tape, if possible. Basically, make sure your items cannot get damaged.
The boxes should be stacked in columns on the pallet, from corner to corner and side by side. The result should be a square of boxes, properly sitting with as little pallet space as possible between them.
Things To Remember
Here are a couple of things you should keep in mind before shipping pallets:
The dimensions of the pallet of boxes should be as accurate as possible, as they influence the shipping prices and pallet space on the delivery vehicle. It's a maximum of 1.2m by 1m for a single pallet space.
The weight and dimensions of the pallet of boxes should be the same as the ones you specified in your order. Heavier and larger pallets will result in extra fees.
Find out whether you have to print and put labels on the pallets or if the courier of your choice will deal with this.
Put specifications on heavy boxes - if you have boxes that are heavy and cannot be lifted by one person, place a note on them that states this fact.
Your oder for shipping should be placed at least two days before your departure from the location so that you avoid any risks.
During festive periods, it is recommended that you send shipments faster than usual, as it may take plenty of time for them to reach their destination.
Pallet Delivery Summary
Shipping goods on pallets is not as hard as you think and there are even companies that will deal with most parts of this process for you.
This means that you don't even have to worry about packing loading your pallet, just prepare the boxes and the courier will sort the pallet space and arrange your pallet of boxes as well.
Furthermore, if you have any questions or you have a hard time preparing a pallet, you can always rely on the courier of your choice for more information, guidelines and advice.
Get more information about pallet delivery by contacting PalletOnline directly. Call or send us a message through Live Chat for an instant response.
Questions & Answers
First select the correct pallet size, then secure your goods to the pallet using either straps, shrink or stretch wrap. Ensure your pallet is properly secure before contacting your chosen courier to collect. Finally, attach a label to the pallet that clearly indicates where your goods are being shipped.
If you wanted to ship many boxes, you could send them individually but you will save money if you were to stack the boxes on a pallet and ship them as one. By doing this, the boxes will travel as one shipment and will not be separated anywhere during their transit.
A pallet is a structurally flat surface that supports goods during transportation. Pallet deliveries involve placing goods or containers on a pallet and securing them using straps, stretch wrap or shrink wrap. They are then transported to their destination.
Two recommended methods for securing freight to a pallet are strapping and shrink wrapping. When using straps to secure a pallet, make sure you use at least two straps and loop them through the pallet forks. To shrink wrap your pallet, cover your items loosely in shrink film and carefully apply heat to tighten around the pallet. If done properly, there should be no shifting during transit.
To stretch wrap a pallet, apply the stretch film around your goods and stretch to completely cover your pallet. Unlike shrink wrap, you do not need to apply heat to stretch wrap therefore application should be a straightforward process.