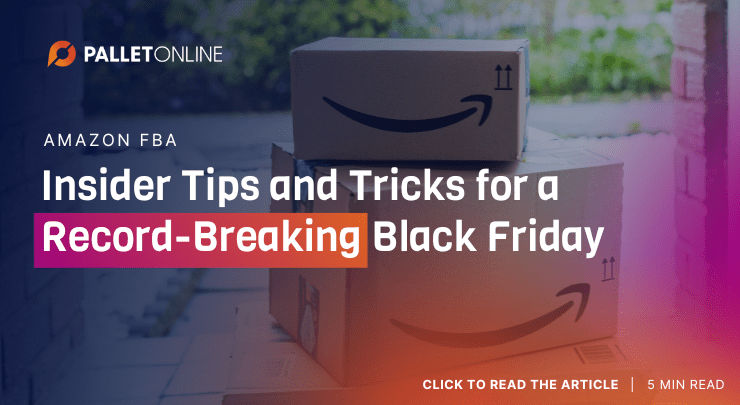 DID YOU KNOW? Black Friday was first introduced to the UK by Amazon in 2010. The initial sale event attracted massive attention, which led to customer complaints about rapid sell-outs and high traffic volumes which caused the Amazon website to crash!
Black Friday is just around the corner; are you ready to meet the demands of your customers this year?
Every year, Black Friday becomes more and more popular, which is why it's so important for sellers like yourself to make sure your products and offers can be found easily by Amazon shoppers to maximise your Q4 profits.
As the countdown to the big day begins, let's zero in on some must-follow tips to guarantee your success this Black Friday.
Optimise Your Product Listings
First impressions matter.
And according to experiments by Princeton researchers, people can make accurate judgements within 1/10 of a second!
This means people will decide if they want to buy your product or keep scrolling in an instant, which is why it's so important to optimise your product listings to make them as easy to find, and as trustworthy as possible.
Put yourselves in the shoes of your customers for a moment, and answer this question:
If you didn't say the bottom one, then you absolutely must read on!
Here's why the second listing works better than the first:


1. Clear, crisp image of the product
Product imagery is hugely important when it comes to boosting those CTRs and conversion rates.
If the image of your product is low quality/pixelated, or the mock-up of your product is very obviously photoshopped, buyers won't trust that your product is genuine.
Authentic and high-quality photos (and videos!) are a must when it comes to selling on Amazon.
Bonus tip: Sometimes, it can be difficult for the customer to picture how big the item is that you're selling. That's why it's best to include a secondary picture with a common object for scale, or you can place your product in a setting that shows off its size relative to its surroundings.


2. Detailed product title and product info

The fewer clicks the visitor has to make, the fewer the chances they have to reconsider their purchase.
Therefore, the more information you can provide in the title and short description, the better!
Just like the example shows, take advantage of product feature fields to showcase even more information in a more readable way for the shopper.
3. Quick and free shipping options



According to e-commerce giant, Shopify, shipping costs cause a whopping 48% of online shoppers to abandon their carts.
To maximise your conversion rate, include shipping in the price of your product so the customer doesn't have to pay extra in the checkout.
Free shipping means a much smoother shopping experience and one less barrier to purchase.


4. Plenty of 5-star reviews
Social proof is a powerful tool in e-commerce.
The best way to prove to a new buyer that your product is of quality and value is to showcase real reviews from real customers.
In fact, 91% of Bizrate Insights' survey respondents say they read at least one review before making a purchase decision.
Nothing says 'this is genuine' like a happy customer who shares a positive review... It's even more convincing when they include images or a video!
Ok, so we've talked about how to make your listing look appealing, but that only counts if the customer can find your product in the first place…
So let's talk about SEO, otherwise known as Search Engine Optimisation, to make sure your product shows up near the top of the list when customers are searching around.
Product SEO
It's vital that you pay close attention to what your customers are searching for, and include those keywords and phrases in your product descriptions, and more importantly, your product title.
Now, I'm not saying cram as many keywords into your title as possible because, believe it or not, you will get ranked lower if you include too many in one place.
It's what's known as 'keyword stuffing', which is massively frowned upon by both Google and Amazon… so be careful!
As long as you follow these simple steps, you'll be golden:
Step 1: Conduct keyword research
Compile a comprehensive list of long-tail and short-tail keywords* that people will type in the search bar to get to your product.
If you were the customer, what would you type into Amazon's search bar to find your product?
Don't forget to use Amazon's suggested and related item categories to bulk up your list of keywords.
You can also experiment with similar searches on Amazon's website to see what's already out there and take some pointers from your competitor's listings.
Short tail keywords are more general search queries consisting of just one or two words. Long-tail keywords are more specific and contain 3+ words. For instance, "Headphones" would be a short-tail keyword, whereas "Sony Wireless Headphones" would be a long tail keyword.
Step 2: Optimise product title
From your list, use the most important short-tail keywords in the title of your product, but make sure you're also following these rules set out by Amazon:
The product title should match what is on the physical packaging of your product
Title length should be between 60 and 80 characters (although many products have longer titles and don't seem to be penalised)
Don't use all caps - use title case instead.
Use numerals - i.e. "2" instead of "two"
Step 3: Optimise product descriptions
Use a mix of short and long-tail keywords in your product descriptions to make sure your listing is shown in as many related searches as possible to maximise your reach to your target buyers.
Offer Promotions
Perhaps the biggest point of even having Black Friday is the discounts, so if you're not planning on reducing prices over the Black Friday weekend, think again.
Studies from 2022 show that a staggering 71% of consumers plan to shop on Black Friday in the UK because of better deals and prices for holiday gifting.
Offering enticing discounts and offers is essential for keeping those conversion rates high through Black Friday and Cyber Monday.
Here are a few different promotions you could consider:
Lightning Deal: Offer a selected quantity of products at a discount for a fixed duration. These deals gain prime real estate on the "Today's Deals" page, and with a "Limited Time Deal" badge, your offer will be hard to miss.
7-day Deals: Lasting for an entire week, these promotions give you consistent exposure on the "Today's Deals" page and showcase the discount in search results. The only difference between 7-day deals and lightning deals is the commitment to a certain quantity of products.
Event Deals: Keep an eye on your Seller Central's deals dashboard for the opportunity to participate in big events like Black Friday, Cyber Monday, and Prime Day. Eligibility and submission details for these high-traffic events will be clearly outlined within the dashboard.
Coupons: Coupons are not only visible in search results but also on your product detail pages, providing a dual boost to your conversion rate and click-through rate.
Prime Exclusive Deals: Available instantly to Prime members, these deals offer an incentive for non-members to consider Prime membership. While offering these promotions is free of charge, it's important to remember that they have more specific requirements for product eligibility than regular coupons.
Although discounting your products is a quick and effective way to attract attention, make sure you're not just attracting bargain hunters.
Use historical data, competitive analysis and inventory projections to help guide the discounts you offer.
Stock Management
Arguably the most important part of all supply chains, stock management is all about making sure there are products available for your customers to buy!
Without products on Amazon's virtual shelves, there's no chance for conversion, no matter how enticing your listings are.
It's essential to plan ahead to make sure you have enough stock available for the Black Friday rush.
If you have a significant volume of stock that you need to send to Amazon, sending your usual parcels as a pallet could be more cost-effective.
And when you choose an approved pallet carrier like PalletOnline, the benefits are clear:
Late fee protection ensures that Amazon won't delay our shipments, giving you peace of mind.
Residential collection capabilities offer convenience that internal Amazon UPS services don't match.
As the UK's only pallet network with approved carrier status, we can directly escalate your cases with Amazon where our deliveries are involved.
Save time and leave the paperwork to us. We handle the scheduling/booking in of your delivery to the Fulfillment Center (FC) for you! No other pallet network can offer this service.
Finally, priority access to Amazon's Fulfilment Centres means your goods are processed with minimal delay, thanks to our frequent and dedicated trailer dispatches to the centres daily.
Get your no-obligation, free, instant quote from palletonline.co.uk today!